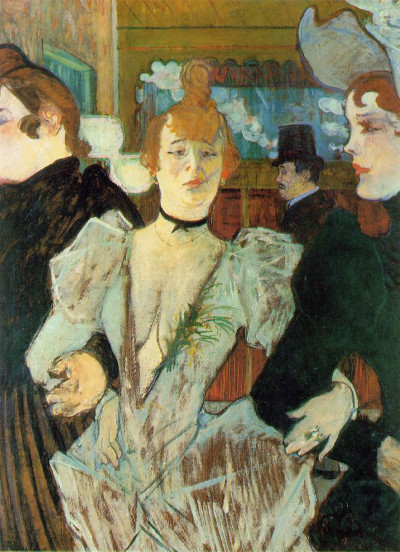 Buy Art Prints Now
from Amazon
* As an Amazon Associate, and partner with Google Adsense and Ezoic, I earn from qualifying purchases.
La Goulue at the Moulin Rouge is dated to around (1891-92) and remains one of Henri de Toulouse Lautrec's most famous paintings. The content is entirely typical of his oeuvre, focusing on the world of theatre within the French capital, Paris.
The painting itself captures Louise Weber, a well known figure within Paris at the time. She became nicknamed La Goulue (the glutton) and is seen here alongside her partner and also her sister. She was a theatre performer who also became famous because of her size, hence the unfortunate nickname. Toulouse Lautrec, because of his own physical issues, would feel a bond with people such as this and wanted to depict their lives in a flattering, kind manner, just as he might wish for in return. He showed a sympathy and respect that La Goulue may have found in short supply, despite her own success. A technical element to notice about this artwork is how the artist aggressively crops through some of the supporting figures. This was the influence of Japanese art and can be found in many Paris-based artists from that period. Some collected wood block prints from Japan and this slowly brought the technique into French art.
The artist chose to exhibit La Goulue at the Moulin Rouge several times upon completing it and is documented as having been particularly pleased with the piece. The location for the theatre hall would have been the Moulin Rouge — a Montmartre cabaret, which provided many sources of inspiration for this painter. He became involved in this community and felt particularly comfortable within this welcoming group of people who were kinder to him than others in wider society might have been. This is an important piece which collates many of the signature elements of the artist's style, both in terms of content but also the manner in which he delivers this interesting figurative piece.
La Goulue at the Moulin Rouge can be found at MoMA, in New York, USA. They hold over one hundred items from Toulouse Lautrec's career, making it one of the biggest public displays available. Not all of these paintings and drawings are always on display, though, and so it is necessary to check ahead of any visit if there is a specific item that you would like to see in person. MoMA count many thousands of artworks within their permanent collection and so it would be impossible to display them all at the same time, though efforts are made to rotate the collection as much as possible and also to sometimes loan out pieces elsewhere for particular exhibitions. This painting remains one of the artist's most famous and so is an excellent addition to this respected American institution's huge collection.