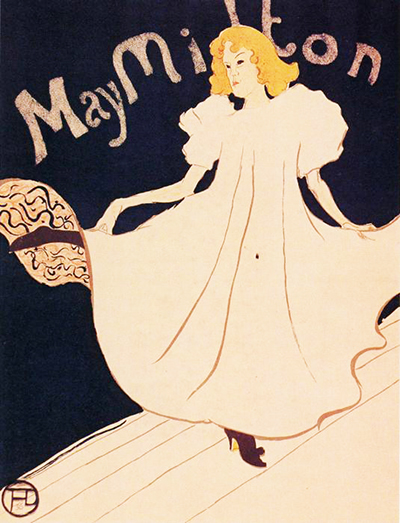 Buy Art Prints Now
from Amazon
* As an Amazon Associate, and partner with Google Adsense and Ezoic, I earn from qualifying purchases.
May Milton is just one of over 360 posters completed by Henri de Toulouse-Lautrec. It was in the style of the Art Nouveau (Modern Art) which was popular between the late 19th to the early 20th century.
The poster was done in 1895 when Art Nouveau was the go-to method due to its simplicity. He used lithograph; a combination of coloured ink crafty done to show various aspects of the drawing. Henri used blue, yellow, black and olive green. The poster was done on a wove paper, which was suitable for such bright colours. Of the many artworks Henri de Toulouse-Lautrec did, in his short artistic career, one thing has stood out; the impressionism. He might not have lived a long life, but his works will show his talents and abilities in generations to come.
May Milton was a dancer of English descent and beautiful in stature. It is believed that Henri saw her when she was on tour in Paris enroute to the United States. The poster was done for her American dance tour, which unfortunately did not happen. It was however collected as a showpiece and was featured on the 1901 Picasso's exhibition at his Boulevard de Clichy studio. Presently, the duplicate of May Milton is being sold online by art companies. Although credits to the poster are allegedly taken by Frances B and Wiliam Julian, the poster is public property, with no one claiming ownership.
It was Rene Princeteau who first discovered the artistic talent in Henri, and took him to Leon Bonnat for his pupillage. After learning the basics, he went on to the Fernand Cormon studio where he met Vincent van Gogh and Emile Bernard with whom they advanced impressionism as a style of painting.
During his earlier days, his paintings were influenced by personalities and occurrences encountered in various places he visited or stayed. Henri was big on posters, painting people like Yvette Guilbert, La Goulue and Jane Avril. What makes him stand out in this genre is because it did not have many painters. Together with Edouard Manet and Edgar Degas, they are credit with conceptualising impressionism in its current form. Interestingly, some of Henri's artwork has been featured in movies, Literature and television. A good example is the Moulin Rouge, Casino Royale, Lautrec and Midnight in Paris.
Henri work cut across different formats, among them canvas paintings, watercolours, ceramics and glass works, and prints. During the time when May Milton was done, he had painted Gala at the Moulin Rouge (1894), Portrait of Marcelle (1893/4), The Laundryman calling at a Brothal (1894), The Salon in the Rue des Moulins (1894), The Medical Inspection (1894) among others.