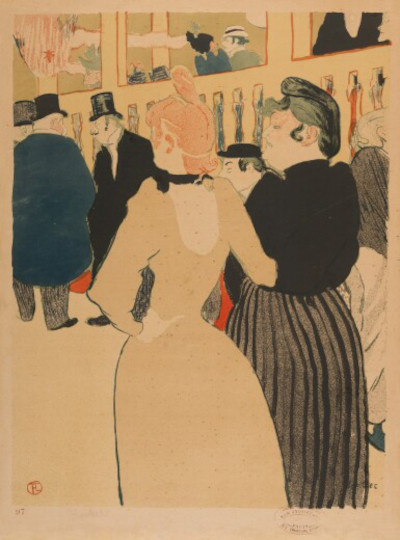 Buy Art Prints Now
from Amazon
* As an Amazon Associate, and partner with Google Adsense and Ezoic, I earn from qualifying purchases.
Au Moulin Rouge, La Goulue et sa Soeur features a performer with her sister enjoying their evening together. They dominate the foreground, whilst behind them we find a busy bar scene.
The more glamorous sister has her arm around her sister as they amuse themselves by looking around at the other guests. Three formally dressed gentlemen chat amongst themselves, seemingly unaware of the sister's presence. Several other figures appear to the right but are aggressively cropped out of the scene by Toulouse-Lautrec. This design was printed 100 times within this series, and the artist chose to add many more colours than he would normally do, making this a particularly charming and memorable example of his work in this genre. The additional tones certainly make the figures come alive, and helps us to imagine being there in the same bar. Au Moulin Rouge, La Goulue et sa Soeur is believed to have been created in 1892, though it is possible that the design was completed earlier and then the printing process was carried out after a delay. The decision to add so many colours to this lithograph would have added time and cost, but the final result would surely have delighted the artist.
One of this limited edition series received an impressive auction price of $47,880 in 2021, underlining how the artist continues to receive a strong following from collectors. His use of lithography massively increased his output and also made much more of his work available to those of smaller budgets. His figurative work has proven particularly popular, with the scenes of 19th century France holding a timeless charm which attracts bidders from the US and across Europe. He also played an important role in bringing about modern day graphic design, and so historians will regularly discuss his influence. The connection of this design to the Moulin Rouge would have added considerable value to it, as that remains the most famous part of this artist's career, which includes titles such as At the Moulin Rouge and Moulin Rouge: La Goulue.
Toulouse-Lautrec was able to build a strong business from commercial advertising, creating posters to advertise all manner of different businesses around the centre of Paris. On other occasions, he would simply be capturing the night life, and these figurative pieces have become his most loved of all. Au Moulin Rouge, La Goulue et sa Soeur contains no lettering, and is purely there to allow us to understand and enjoy the atmosphere of that particular night. The artist would visit these establishments for fun anyway, and loved the excitement and energy found in Montmartre, be it in bars or the theatre. Most of his finest achievements as an artist include content from these establishments.