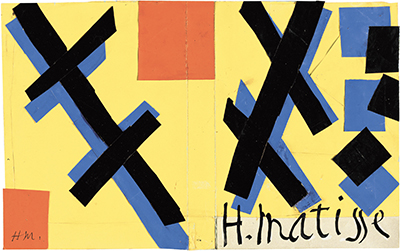 Buy Art Prints Now
from Amazon
* As an Amazon Associate, and partner with Google Adsense and Ezoic, I earn from qualifying purchases.
This bright design was for the cover of a book by Henri Matisse. He would regularly provide modern illustrations to sit alongside text, though sometimes featuring just his artworks alone.
Here we find crosses of black with near identical blue versions placed just below. There is deliberately a small space between the two so that we can make out them both. To the right hand side there are single shapes in the same manner, but these are spaced further apart. He then signs the cover at the bottom in large lettering, and a fairly loose use of pen. Two further orange triangles are then placed within the design, plus his initials in the bottom left corner. The artwork is termed Maquette, though this is an artistic term normally used to describe small sculpture models which are used to give an indication of how a planned project might look, though in a larger format. Book illustrations were an important part of Matisse's career, though something that many are not aware, with most in the public just being aware of his iconic oil paintings which tend to receive more exposure within the media.
This artwork is believed to now be owned by the The Museum of Modern Art, New York and it may well have been under the ownership of the Guggenheim family at some point as well. Both of these heavyweights focus on modern art and have important roles in helping the US to perhaps become the leader in art galleries and museums across the world, even though western art history was previously dominated by European nations up to about the end of the 19th century. Cover maquette for the book Matisse His Art and His Public is dated at 1951 and was produced using gouache on paper, cut and pasted. Larger images of the cover reveal some of the original work made by the artist would should actually increase its value rather than detract from it. For example, lines exist where the artist pasted in different elements together over the bright yellow background.
Although the artist remains most famous for classics such as Open Window, Portrait of Madame Matisse and Blue Nude, the public is starting to understand the great breadth of his work and therefore be inspired to look deeper into his considerable oeuvre. His illustrations, for example, are highly significant and provide another contribution to his legacy which was his influential within the development of modern art. That alone explains why his work is so highly prized but thankfully a good amount of it resides in public art collections, allowing us all to see it close up which in turn can help to bring more people in the art industry in coming generations.