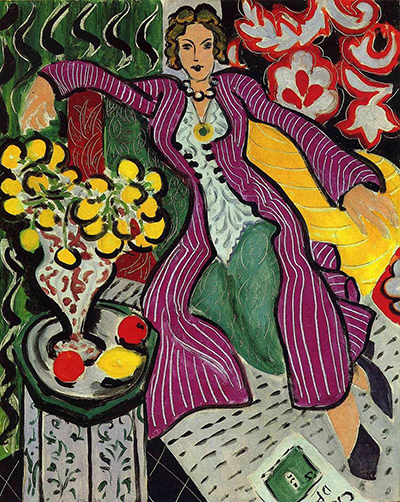 Buy Art Prints Now
from Amazon
* As an Amazon Associate, and partner with Google Adsense and Ezoic, I earn from qualifying purchases.
Created in 1937, Woman in a Purple Coat is a superb example of Henri Matisse's deployment of colour and light to express his feelings about life.
The way Matisse made the colours work together meant that there was no need for a delineating straight line. Furthermore, the black outline around the woman and other objects accentuates them by making them 'pop'.
Lydia Delectorskaya, Matisse's model for Woman in a Purple Coat and nurse in his final years, fled to France from Russia during the 1917 revolution. Unlike Matisse's other models, she had long blonde hair, blue eyes and fair skin. Matisse said she had "The look of an ice princess."
When their paths crossed in Nice, France, Matisse was a well-known artist. He reportedly never asked Lydia to pose nude, which she appreciated. During a brief conflict with Matisse's wife in which she accused Matisse having an affair with Lydia, the model was fired. However, when his Amélie left him shortly afterwards, Matisse rehired Lydia as an assistant in his studio.
The vivid, purple coat with the black outline makes the woman rise out off the chaise longue. This also gives the piece a three dimensional aspect, as if Lydia could stand up and walk away at any moment. Said to be modelling an exotic Moroccan costume, Lydia is wearing a purple coat, a statement yellow necklace and pointed blue shoes. She rests on a sumptuous yellow pillow or blanket and beneath her coat she wears a more European looking white blouse and green skirt.
The various patterns in the background also give the impression she is situated in the corner of the room. The flowers to her right and the magazine at her feet also allude to a sense of depth.
All in all, this composition is not only a piece of history, but also a snapshot of a great man's legacy. A legacy that has touched the hearts of millions who have seen it and to those who have been personally involved with it.