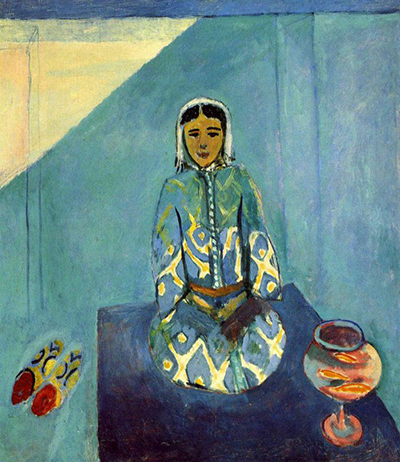 Buy Art Prints Now
from Amazon
* As an Amazon Associate, and partner with Google Adsense and Ezoic, I earn from qualifying purchases.
In January 1913, Henri Matisse created a painting with a portrait subject known as Zorah on the Terrace. This oil on a 115 by 100cm canvas painting was created in the Expressionism style. This is one of the most famous compositions by Henri Matisse. Its popularity mainly lies in its history.
At the beginning of 1912, Henri Matisse took his wife, Amelie, to Morocco. In Morocco, the leading religion is Islam. He planned to execute several commissions from Sergei Shchukin And Ivan Morozov, Russian collectors, during this trip. However, he had a tough time finding a model to pose for his creations. According to Islam customs, women were prohibited from posing and uncovering their faces unless they were prostitutes. After looking for two months, he was above to find a model for his compositions. Twelve-year-old Zorah was the model.
While Zorah was willing to pose for this composition, Henri did not have much time because they feared her brothers would do something drastic if they found out that she was posing as a model for a portrait. Therefore, the composition took two visits from the model. The second visit happened six months after the first one. Zorah was discovered working at a brothel. At the time, a 12-year-old girl was considered old enough to get married or work as a prostitute.
The painting is set on the rooftop of the brothel where she worked. The painting details the national costume of Zora as she sits on the Terrace. Her traditional dress features blue and yellow colors. Most of the background of the portrait is also blue. The floor underneath her features a darker shade of blue. The bright environment significantly influences the intensity of the yellow in the dress. Henri Matisse paid less attention to the hand as they are not painted. Next to Zorah is a pair of shoes featuring a red inner sole and yellow, light blue, and dark blue shades on top.
They are designed to match the dress. Most of Zorah's head is covered with a white scarf. However, you can still see the front of her dark hair parted in the middle. The composition also features a clay pot. 12-year-old Zorah was the subject of three paintings by Henri Matisse during his time in Morrocco. The other two compositions are Zorah in yellow and standing Zorah. From simply looking at the paintings featuring Zorah, it is impossible to tell the girl's occupation if you do not know its history. You also cannot tell her age from the paintings.