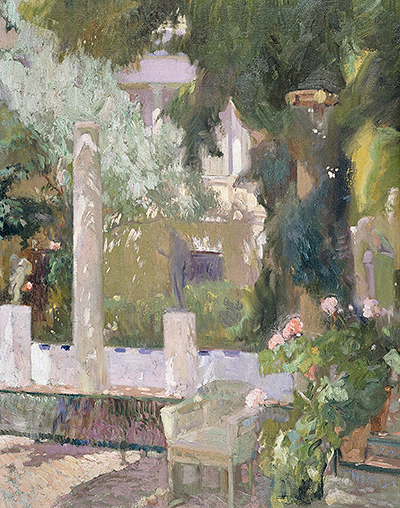 Buy Art Prints Now
from Amazon
* As an Amazon Associate, and partner with Google Adsense and Ezoic, I earn from qualifying purchases.
The Spanish painter studied in Rome and Paris through scholarships won through his prize-winning pictures. During his time in these cities, Sorolla fell in love with the Italian Renaissance gardens and the Baroque gardens of France.
Also, he visited Andalusia in 1902 were he was enthralled by the magnificent snow-capped mountains of the Sierra Nevada. It was during this time that the artist's appreciation of contained garden spaces grew. In 1890, Sorolla moved to Madrid with his family where he built a fiercely modernists house, all brick-aced with small windows. And beneath it, he crafted a very beautiful garden, filled with vividly coloured flowers. The artist cherished and nurtured his garden, planting a sheltering bed of reeds and employing a gardener to help him plant and weed the ever-changing tapestry of blooms. Joaquin Sorolla's love of gardens and dislike of working in a studio played an important role in the evolution of his style. In his paintings, he filled canvas after canvas with beautiful flowers and expressed powerful emotions with splashes of colour in watercolour and oils.
Summers spent at his Madrid home encouraged Sorolla to paint his family in this tranquil, sun-drappled setting. He also enjoyed painting vignettes of the place without figures. The painter highlights the play of light filtering and explosion of colour through the plants in the canvases with a bit of spontaneity. The Gardens at the Sorolla Family House was painted in spring 1920. The painting exhibits a meticulously planned garden featuring small trees, beautiful flowers, and a gravel path. The background is the painter's house. The painting also has a wicker chair, which was normally used by the artist to paint, gives the piece of art a melancholy point and a peculiar intensity.
The hushed silences of Sorolla's small, intimate garden began to cast a spell over him and he returned to it again and again, striving to capture its essence. He managed to paint most of his pieces in his garden as well as in other gardens where he found tranquillity. Some of his famous garden paintings include The Grapevine, El Patio de Comares, La Alhambra de Granada, and The Gardens of the Royal Palace of La Granja. Most of these intensely drawn pieces were made in a single sitting. If Sorolla couldn't finish a painting in a single day, he would wait for a time when the weather and light conditions were similar. If this became challenging, he would abandon the painting and start working on a new one.
Different art movements of the 19th century were largely influenced by Spanish painters undertaking their studies in foreign capitals, especially in Rome and Paris. Hence, Realism, Neo-classicism, Impressionism, and Romanticism became important strands. However, they were often influenced by local occurrences such as tragedies of the Carlist Wars and repressive governments. Early years of the 19th century were dominated by academicism then followed by Neoclassicism. The later part of the century experienced a strong wave of Romanticism as depicted in the works of Eduardo Rosales and Antonio Gisbert. In these paintings, the techniques were often used with romantic subjects. This is evident in Pradilla's famed early work, Joan the Mad. The facial expressions and composition show the dramatic emotion of the scene while the texture of the mud and precise clothing show great realism in the painter's style and attitude. Another artist who excelled in reflecting the spirit of Impressionism was Joaquin Sorolla. His famous seaside paintings among other art pieces dexterously represented people and landscapes under the sunlight in his native land.