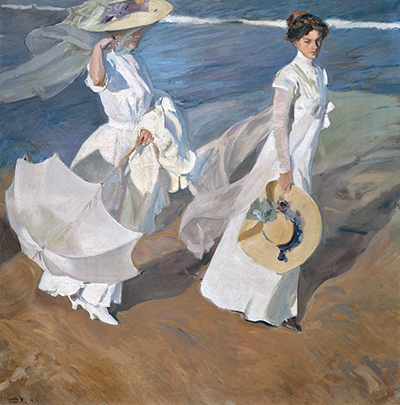 Buy Art Prints Now
from Amazon
* As an Amazon Associate, and partner with Google Adsense and Ezoic, I earn from qualifying purchases.
Few artists' styles are as popular as the Impressionists of the 19th century, such was their mastery of light and also their concentration on aesthetic beauty rather than any deeper meaning. Sorolla lied on the fringes of this group, creating his own unique approach which also used elements of Luminism and Realism.
The Impressionist movement found a popular niche which lied close to realism, but with elements of expressionist ideas that was eventually coined by this label. They started off as a small group of unknown artists in Paris before later developing to inspire artists right across the world. Use of light was a key element to their style, and this approach is amongst the most popular with the public in the present day. Sorolla print reproductions are purchased frequently because of his own similarity to the work of the French Impressionists. He also took on some charming scenes of family fun by the seaside, a theme that many will appreciate. His work boasted an innocence and charm that you will struggle to find in today's society, particularly in Europe, and so many want to add this magical time to their homes in the form of prints or posters.
Sorolla was a master of light and the south of Europe is famous for the way in which its environment is flooded with light. It is hard to be a darker artist when growing up in this region, just as we saw with Van Gogh, for example, when he moved from the Netherlands to the south of France. Modern day art fans are normally drawn to these happier, brighter colour schemes and this makes Sorolla prints popular, even though his reputation as an artist is still mainly confined to his native Spain. Despite building an international following within his own lifetime, he has now fallen behind some other artists with regards global fame. This can be a type of fashion that changes over time, and several recent exhibitions of his work will have helped to remind the world of this artist's brilliance. One issue to consider with his work is that many of his most famous paintings were produced on huge canvases that would fill an entire exhibition wall, so an art print reproduction needs to be at a reasonable size in order to get across at least some of the detail found in the original painting.
Those who decide to order a print from Sorolla's career will be offered a variety of options with regards how to best customise their final product. The size that you desire is the most important to consider, but after that you might choose to add a frame to the piece. This can help to protect your print as well as giving a more professional look when hung on your wall. Frames come in a variety of styles and colours, but this artist is best suited to a simple frame, perhaps in wood, that allows the beauty of the original artwork to take centre stage. You might also consider placing a small mat between frame and print in order to further focus one's eyes on the painting itself. Sorolla himself produced many hundreds of paintings during his career and it is well worth taking the time to go through all available choices before selecting your favoured piece. Many of his most famous paintings may attact you, but there is often a lesser known piece that you prefer, either because of its aesthetic beauty or perhaps some elements of the content hold a particular connection to your own life.
Sorolla may not be as famous as some of the main Impressionist group, but he is still well represented by most online retailers of art prints. Currently, his most popular choices for present day art fans are Women Walking on the Beach, Sewing the Sail, Sad Inheritance and The Horse's Bath. These are perhaps more chosen for their beauty than any particular significance to the career of the artist. Many will be attracted to the artist's beautiful use of light, but may not know much about the key works in his life, and just judge each work by their own taste - this is, of course, completely normal and hard to avoid, with there being so many famous artists out there. It is worth browsing our own paintings section that draws together the highlights of his career and perhaps that will reveal a true favourite for yourself, but many more exist beyond that from Sorolla, who is amongst the most prolific artists within Spanish art history.