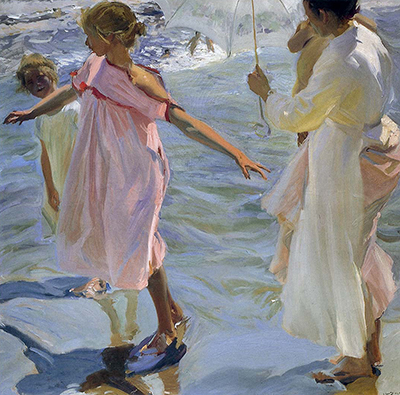 Buy Art Prints Now
from Amazon
* As an Amazon Associate, and partner with Google Adsense and Ezoic, I earn from qualifying purchases.
Joaquín Sorolla had a unique painting style that had similarities with both the Impressionist and Luminist art movements. His work was most famous for its elaborate and highly skilled use of lighting that enveloped huge canvases.
This Spanish artist, born in the city of Valencia, is best remembered for his depictions of beach-side scenes, often with a charming innocence of youth as children played in, or close to, the sea. The artist also produced a huge number of portraits in more formal settings, with some highly significant individuals being found within those. As his career developed, Sorolla received large numbers of commission requests and was able to pick and choose which projects he took on. He also was known internationally within his own lifetime, which is still relatively unusual if you browse through major European artists since the Early Renaissance. In the modern day he is particularly well known in Spain, but lesser so abroad. Other names in and around the Impressionist movement have moved ahead of him in that regard, but there can be no doubt as to the beauty and impact of his work.
The artist's influences were varied. As a young man he would travel to Italy and France as well as other regions of Spain. Interestingly, he would study the work of several artists within art galleries that hold now hold some of his own paintings, such as the Prado Museum in Madrid. Sorolla started to achieve academic respect at a young age, as early as his late twenties when several different awards were received for some of his early masterpieces. He would quickly go on to establish himself across Europe and in North America with a series of successful exhibitions. This concentration on a wider market outside of his native Spain would benefit his career later on when a wide range of notable commissions would start to compete for his services. Despite the high status of some of the models for his portraits, most still remember this artist most for his charming scenes of the Valencian seaside, with children and women playing in the sun.
Despite the huge scale of some of his artworks, Sorolla was able to produce many hundreds of paintings during his career, as well as a number of study drawings which proved essential to perfecting his skills of portraiture. He was even able to put together a single exhibition that put hundreds of his own artworks on display, suggesting that some of his pieces would have to have been somewhat smaller in order to fit this many in. Knowledge of his career in the modern era has been shrunk down to a small number of major artworks, all of which are listed in this section, but those who truly love his oeuvre will normally take the time to discover more and more of the breaktaking pieces from this extensive and consistent career. He continues to draw attention thanks to his prominence within the collection of the Prado Museum in Madrid as well as having his own specialist gallery in Valencia.
With regards the fondness and esteem with which the general public regard his work, there has been a growing interest in topics such as used by Sorolla in recent times. It is specifically the innocent depictions of women and children which have proved most popular, and this can be seen also in the careers of other artists who lived on the fringes of the Impressionist movement, such as John Singer Sargent, William Merritt Chase and Childe Hassam. It can also be said for several members of the Pre-Raphaelite movement which delighted many in Victorian Britain (see, for example, Waterhouse, Millais and Holman Hunt). They themselves concentrated on slim, pale models within scenes inspired by medieval and classical themes. They did not feel that art had to necessarily have a message, but could be enjoyed from a purely aesthetic point of view. Additionally, Sorolla himself rarely approached social angles with in his career and preferred to produce simple but delightful compositions.
See all Joaquin Sorolla artworks
Highlights from Joaquin Sorolla's Career