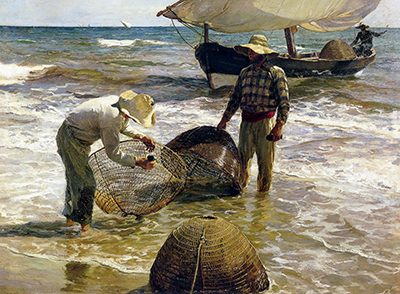 Buy Art Prints Now
from Amazon
* As an Amazon Associate, and partner with Google Adsense and Ezoic, I earn from qualifying purchases.
Famed in Italy, France, and loved at home, Joaquin Sorolla was a master of landscape paintings and portraits. The Valencian Fishermen was a classic painting to celebrate the work of his home town.
Born and raised in this Eastern City of Spain, Joaquin went through a typical life of a coastal boy, enjoying the Mediterranean tides and the marine life. Most of his paintings depict such experience, with children and fishermen featuring significantly. Almost all his paintings were colourful. The background, clothes, and the surrounding were adorned in beautiful colour mix. His inspiration was ordinary occurrences, relative subject matter, and historical paintings. He gained all these attributes from his training days at the Museo de Prado. His stints in Rome, Paris, and Lisbon sharpened his focus on colour where he met the famed Francisco Pradilla, Jules Bastien-Lepage, and Jose Villegas Cordero.
Alberto Pla y Rubio and Julio Romero de Torress gained wealth of experience from Sorolla in his sunset years. Some of his works were exhibited at the Petit Palais in France, Oscar Neimeyer Museum in Brazil, and Meadows Museum in the United States. When he died, his widow donated all his paintings to the authorities, who created the Museo Sorolla (Sorolla Museum) in his honour.
This oil painting done on canvas. Drawn and commissioned in 1897, the painting shows three men on the shores of the sea, one cleaning his fishing basket while the other standing nearby, waiting to clean his basket. The third man is on the boat in the background, rowing it to the shore. All three men have hats that protect their faces from the hot sun. The painting was 85 centimetres wide and 65 centimetres high. Joaquin was good with coastal scenes. The impression he brought in his paintings gave the audience the front row seat to the life at sea. The attention to detail, accuracy, and clarity of his paintings was unrivalled. Such talent brought out the impressionist idea, especially the visible brush strokes and the accurate illumination of the art.
Paintings done as a reminiscence of a fisherman's life included Peeling Potatoes (1891), Return from Fishing (1894), Lunch on the Boat (1898), Fisherwomen on the Beach, Valencia (1903) and Return from Fishing (1908). He was also good with portraits, the most notable ones being Antonio Delgado (1893), Don Silverio de la Torre y Eguia (1893), Self Portrait (1909), and Queen Victoria Eugenia of Spain (1911).