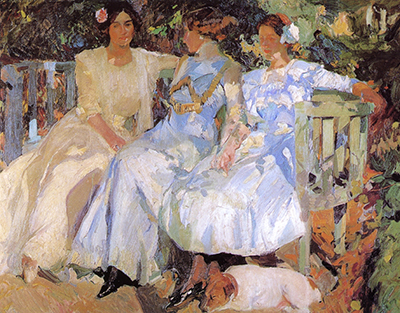 Buy Art Prints Now
from Amazon
* As an Amazon Associate, and partner with Google Adsense and Ezoic, I earn from qualifying purchases.
Sorola started his painting career with some training. He was inspired by great Spanish painters whose works were displayed in Madrid Prado Museum. Some of the artists who inspired him and his styles were; El Greco and Diego Velázquez.
Besides, his stay in Rome further inspired his journey as an artist. In this painting, he embraces the impressionism style. The style was influenced by his experience in Paris back in 1885, where he witnessed the creation of art first hand. Just like in other paintings, Sorolla depicts a distinguished differentiation of light and darkness in his paintings. The painting was done back in 1910. The medium used in this case was oil on canvas. The measurement of the art was 166 cm by 206 cm. The mood of the painting is relaxation, while the theme of the painting is nature and socialization.
The painting is made up of three ladies and a dog in a garden. Based on the description of the title, one of them is assumed to be the mother while the other two are her daughters. Two of them are captured facing the direction of view while the other one who is in the middle faces appears faces the one on her right side. All of them are adorned in bright coloured attires, and they have long hair. They are all sitting on a bench in a relaxed manner as they leisurely hold onto the bench. Besides them, there are trees and other types of vegetation. Their presence is an assurance of freshness in the place. They assume a green colour which is common in the current environment.
A white dog with some brown spots lies on the ground beside their feet. It appears to be sleeping and unperturbed by what they are discussing. It embraces the element of relaxation based on the environment that it finds itself. Also, it appears comfortable with the presence of humans as it lies close to them without causing any trouble. The effect of the sun is captured in this painting as the shadows of the trees, vegetation and people are captured. Thus, the painting depicts that it is during the day.
Given the nature of this painting, it depicts the importance of interacting with nature and its contribution to the relaxation of both people and animals. Additionally, it depicts that relaxation is a common element in both the traditional and modern setting. This offers time for families to catch up, refresh and bond with each other in both the short and long-run spheres.