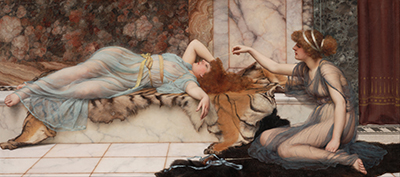 Buy Art Prints Now
from Amazon
* As an Amazon Associate, and partner with Google Adsense and Ezoic, I earn from qualifying purchases.
Mischief and Repose by John William Godward was painted in 1895, in a neo-classical style that was rapidly becoming unpopular in the Victorian era, due to the emergence of modern artists such as Picasso.
John William Godward was a protégé of Sir Lawrence Alma Tadema, who was an archaeologist as well as an artist, and spent much of his time visiting the Greek and Roman sites on which he based much of his work. Although Godward was Tadema's pupil, he also followed closely in the stylistic footsteps of Frederic Leighton. Mischief and Repose was originally bought in 1895 by Leon H. Lefevre in London, and now hangs in the Getty Centre of the J. Paul Getty museum.
The painting itself depicts Repose, reclining upon a tiger skin placed on a marble surface, as Mischief holds a dress pin towards her face, as if to try and wake her. Both neo-classical beauties are dressed in the diaphanous robes reminiscent of Ancient Greece, for which Godward is well known. The painting is known for Godward's depiction of the marble surface, which is painted more realistically than in his earlier works.
Mischief and Repose is painted in oil on canvas, a method which was predominantly used by the late Victorian era. Oil paint is created by mixing pigments with various drying oils as binders, such as linseed, poppy seed, walnut or safflower oil. The choice of oil used will add different effects to the finished product, such as the 'yellowing' effect that oils are known and loved for. The oil used also affects the time taken for the paint to dry. Most oil paint from the late 1800's was made with linseed oil, but many French paintings from this period are found to have used poppy oil. The canvas used at this time was usually plain weave, although more textured canvases were sometimes used. Godward is known for his use of vibrant colours; his paintings are bright and cheerful, in direct opposition to other commonly known artists that used different oils to create darker, yellow effects. Godward used oil that would remain colourful throughout the painting process, leaving a collection of accurate, vibrant and beautiful work that is rapidly becoming relevant again today.