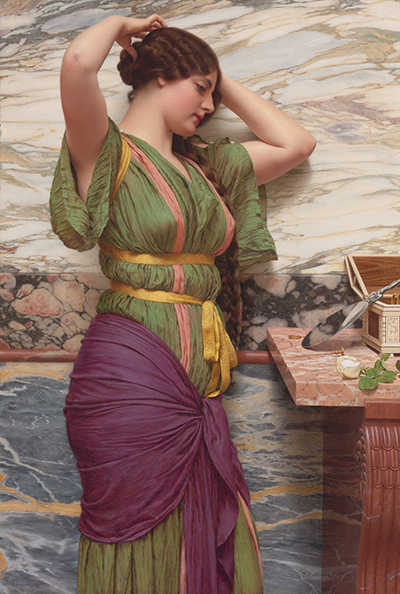 Buy Art Prints Now
from Amazon
* As an Amazon Associate, and partner with Google Adsense and Ezoic, I earn from qualifying purchases.
The Neo-Classical approach of artists like John William Godward retain their popularity with the art public today, ensuring that reproduction prints of their original paintings are still very much in vogue.
Godward's style was incredibly consistent throughout his career, with no long periods of change or experimentation. Those devoted to his work, therefore, have plenty to enjoy with the endless portraits of classically dressed, pale skinned models. His work is bright and upbeat, suitable for many homes and the colour schemes best suit contemporary styles. Those interested in purchasing John William Godward print reproductions may also consider Millais prints, with that artist following a similar approach from within the Pre-Raphaelite Brotherhood.
Many people choose art for their homes which can transport them to another place, mentally. Godward's paintings are ideal for that, reminding us of a time of innocence and beauty, with classical fashion and architecture combined with light skinned, sweet models. This is not art that requires deep thinking, more something that is immediately accessible and "pretty". Academics would not always be fond of such ideas but the art public will often have a different opinion.
Those who decide to pick something from Godward's career may be interested in the likes of Dolce Far Niente, A Fair Reflection and Under the Blossom that Hangs on the Bough which are all amongst his most reproduced artworks, from an extensive selection. He was a prolific artist and also because copyright has ceased on his work, retailers are easily able to offer his entire career output for sale. Our paintings section provides a list of his main highlights.