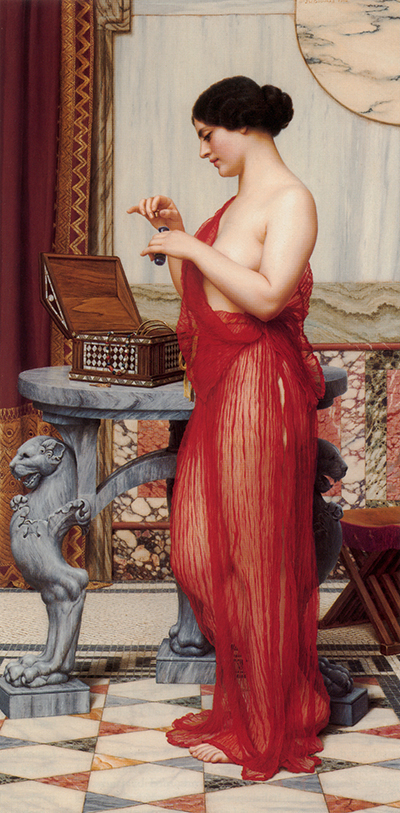 Buy Art Prints Now
from Amazon
* As an Amazon Associate, and partner with Google Adsense and Ezoic, I earn from qualifying purchases.
The New Perfume was completed by John William Godward in 1914 and is a part of the Richard Green Fine Paintings Collection in London, at the time of writing.
Godward's artistic period between 1914-1918 is generally termed as his Middle-Roman Years and this is one of the first artworks to appear in that time. This painting features all that we associate with the artist's trademark style - marble's furniture, light clothing draped across pale-skinned models and additional arrangements of still life scenery. The artwork measures 51cm wide by 102cm tall and, naturally, was made using oil on canvas.
The New Perfume illustrates Godward's strengths and weaknesses. The table with griffin tripods and the folding stool are studio props, positioned to contrast with the variegated marble floor and wall. The figure of the woman, in a deep-red diaphanous robe, exhibits the influence of Leighton in its meticulous folds. The eroticism of the canvas is suggested by the woman's naked breast, where she will be applying the perfume. In its use of colour the canvas has merit, but the specious recreation of a domestic interior is neither convincingly detailed nor architecturally correct in the manner of Tadema. This wielding of Tadema and Leighton in Godward is a potentially beautiful but also a hazardous experiment.

Art Historian Joseph Kestner's critic of this painting
We can also learn something about the development of this painting from a study sketch produced by John William Godward. In that pencil drawing he concentrates on the main focal points of the composition, the female model and the small table, leaving the background relatively untouched. This was a prolific period for the artist and the following year brought about A Fair Reflection, one of his most famous paintings.