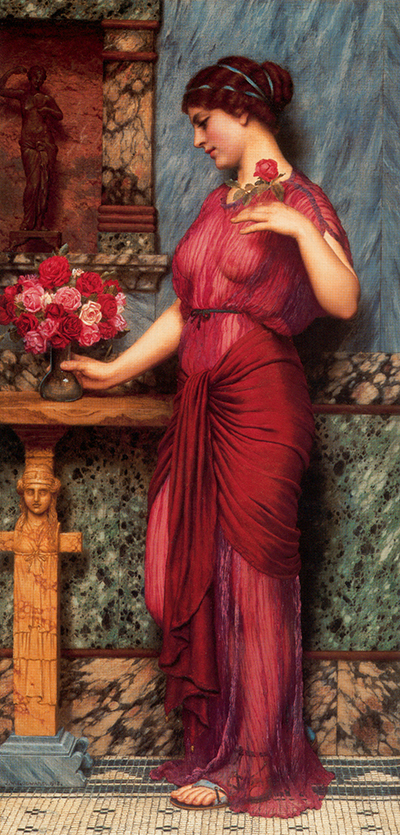 Buy Art Prints Now
from Amazon
* As an Amazon Associate, and partner with Google Adsense and Ezoic, I earn from qualifying purchases.
A prized piece of art by the artist John William Godward (1861-1922) done in 1912 in Rome, an offering to Venus is one of the simple yet most impressive artworks in history.
This work is done in a style known as Victorian Neoclassicism. Neoclassicism style depicts Greek and Roman classical civilisation, using architecture landscapes in different marble patterns. Victorian neoclassicism includes Ancient Roman styles and the appreciation of the ruins of the Roman Empire which was acceptable during the artist career. This is also shown by the choice of Italian or Italian-like models common throughout most of John William Godward work and the use of different dresses. An offering to Venus is a painting of a priestess making an offering of red and pink roses to the bronze statue to the Venus of Arles.
Venus is a Roman goddess of love and sexuality hence the red hue in the painting highlights the concept. An accessory of antiques in the painting can also be seen, revealing the artists love for collection of antiques and use in his painting. The materials used in the painting mainly include oil and canvas, which were very common during the mid-18th century period. The planning obviously done to achieve the beautiful thoughtful look could have taken the artist some time. The poise of the priestess in thought is convincing enough to be said to have taken more than a few touches to get it right. There is a good balance achieved by the meticulous arrangement of every piece blending in with the Italian or Italian-like model frequently used by the artist in most of his work.
The asymmetrical arrangement of the pedestal at the far edge of the picture gives the feeling of a very dynamic painting. The background with the different patterns of marble gives a good contrast. The piece of art has good proportion, given that the size of every other antique in the picture is small in relation to the main character, the priestess. The artist was inspired by Sir Lawrence Alma Tadema with whom they shared a common love for Victoria neoclassicism, collection of antiques, and use of architecture in their paintings. An offering to Venus is a private collection owned by the Late Ian Fry. The marble school movement has been inspired by the artist works. It is a piece of work worth appreciating.