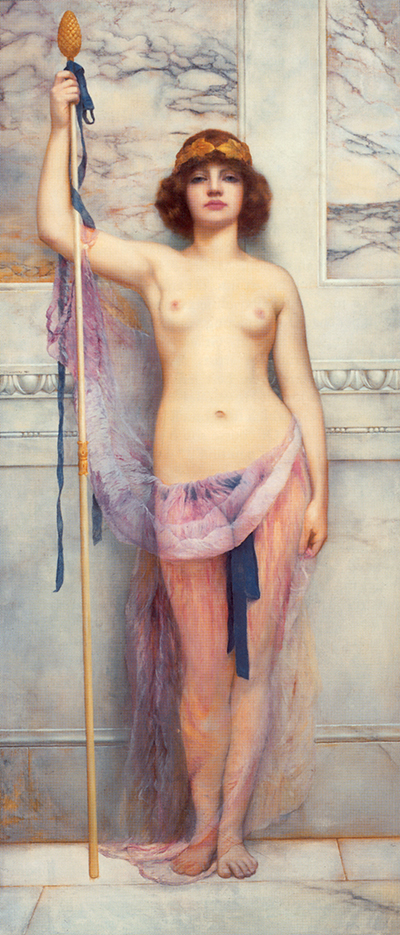 Buy Art Prints Now
from Amazon
* As an Amazon Associate, and partner with Google Adsense and Ezoic, I earn from qualifying purchases.
John William Godward painted A Priestess in 1893. The artist uses oil on canvas, and the painting's dimensions are 159.4 x 71.4 cm (62.8 x 28.1").
This piece is, in fact, the the first of two works of the same title by Godward. However, whereas A Priestess (1893) depicts a nude woman in a Classical setting, the latter version of A Priestess (1894/5) renders the same woman, in the same pose, but this time clad in Classical attire. Despite being the earlier painting chronologically, A Priestess (1893) is often referred to as A Priestess 2, or A Priestess (Nude). Both were painted relatively early in Godward's artistic career, which spanned from 1880 to 1922, when he died.
Godward was a Victorian Neo-Classicist, which theoretically made him a follower of Frederic Leighton. However, despite certain similarities such as an artistic interest in Ancient Greece, they were not closely aligned stylistically. More significantly for his career, Godward was a protégé of Sir Lawrence Alma-Tadema, a classical painter of British denizenship. They shared a passion for rendering Classical architecture, a motif of Godward's work.
A Priestess is typical in this way, in that it has the strong Classical elements present in the overwhelming majority of his oeuvre, which feature women in Classical dress, posed against or among Classical architectural features. The marble background against which the woman in A Priestess is posed is emblematic of Godward's work: he was particularly skilled at depicting marble, and it can be found in a majority of his paintings.
Due to the vibrancy and palette of Godward's studies of women as seen in A Priestess, many people who are unfamiliar with his work mistakenly categorise him as a Pre-Raphaelite. However, his focus on Ancient civilisation as subject matter means he is better categorised as a Victorian Neo-Classicist. The painting now belongs to a private collection, the details of which are not available in the public domain.