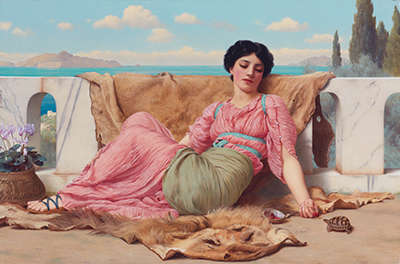 Buy Art Prints Now
from Amazon
* As an Amazon Associate, and partner with Google Adsense and Ezoic, I earn from qualifying purchases.
The Quiet Pet by John William Godward was a painting created in 1906. It is an oil on canvas painting. Its dimensions are 20 in. (50.9 cm) (height) by 30 in. (76.2 cm) (width). The original painting was signed by him, J.W. GODWARD.
Its provenance starts with Francis Michael Evans, Harrogate (in 1906) and has been sold progressively from London over the years to a private collection in the United States, where it was sold to Sotheby's, New York, February 12, 1997, lot 82) Anderson Galleries, Beverly Hills. The Quiet Pet is a fine piece of art that depicts a woman rested on an animal skin. The woman sits on a patio overlooking a lake with clouds receding into space. The painting depicts the vicinity which has islands and trees. Godward uses the objects in nature to bring out an illusion of depth and atmospheric effect in his painting. The woman's legs are partially covered by the dress she puts on. One foot is exposed and almost touches the flower pot she is sitting close to. She has her left hand stretched towards a tortoise that she seems to be feeding cherries to.
The woman in this painting, like all other women in paintings that the artist did, are all covered in diaphanous robes. The contemplative and unaffected women in his paintings may seem like a reflection of his own disposition and personality. Godward's mother was a Low Church Evangelical. Her severity and religiousness clearly inspired her son's works of art. This might have been the reason why he rarely portrayed the women in his paintings nude. He veiled them in robes that went as low as the ankle.
In The Quiet Pet, the robe's fabric has a deep pink shade. This is also seen in one of his masterpieces, the Golden Hours. He paid close attention to the folds on the woman's robe, which exhibits the influence of Leighton, an artist whose work Godward thought highly of. The plate of cherries is an idea that he seemingly borrowed from fellow classicists, the likes of Edward Poynter and Sir Lawrence Alma-Tadema whose composition, Quiet Pet, shows a Roman woman is sitting in the company of tortoises.