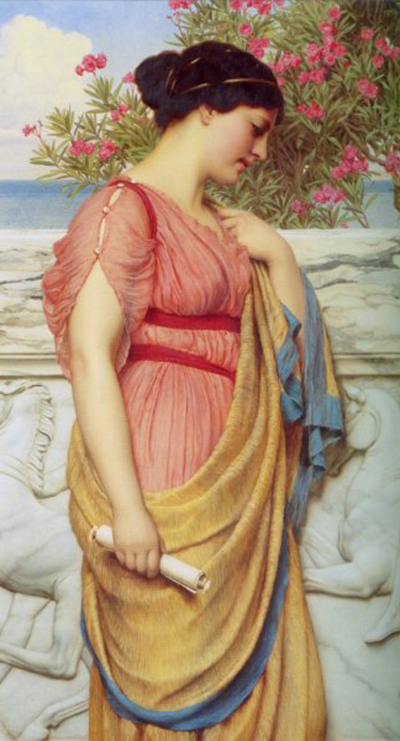 Buy Art Prints Now
from Amazon
* As an Amazon Associate, and partner with Google Adsense and Ezoic, I earn from qualifying purchases.
Sappho is an oil on canvass painting by English artist John William Godward. The painting is dated to 1910 and is painted in the Neoclassical style.
Typical of many of Godward's paintings, most of his works depict women in classical dress, though there are portraits in either semi-nude or nude repose. In the painting Sappho, a woman is standing in front of a marble wall, looking contemplative. Godward uses vibrant colours and pays meticulous attention to detail. Her garments are in bright blue and beige, contrasted against a marble wall. Her delicate robe seems to point to an ancient heritage. As with many of his other works, the woman in the painting is placed in a classical setting.
Godward mostly depicted women alone in settings hinting at olden days. His models are usually decorative, brunette beauties in delicate gowns painted with imaginative contrasts of colours and flesh tones. The models were painted in the nude first, after which, their robes were meticulously painted on. His works were painted with photographic realism and in this portrait, he captures the mood of his subject well, of a relaxed woman lost in thought. John William Godward is regarded as one of the leading Victorian Neo-Classicist painters of the late 1900s in England. He was Olympian Classical Revivalist artist, inspired by the ancient civilization of the Greeks and Romans, more notably the Romans. As a painter and architect, he brought stunning realism to his works, by having an exquisite eye for detail and using colour effectively. It is at present unknown who commissioned Sappho and who the current owner is. The painting is believed to be housed in a private collection.
John William Godward was born on 9 August 1861 and at age 61 committed suicide in 13 December 1922. He was a student of Sir Lawrence Alma-Tadema, whose works included a Sappho related painting Sappho and Alcaeus. Other role models included contemporary artists like Frederic Leighton. Godward exhibited at the Royal Academy for much of his career and with prominent art dealers such as Arthur Tooth & Sons in London. His paintings have been displayed by many of the leading museums and galleries of the world, including the National Trust in Scotland, the Getty Museum, Manchester City Art Gallery, and the Metropolitan Museum.