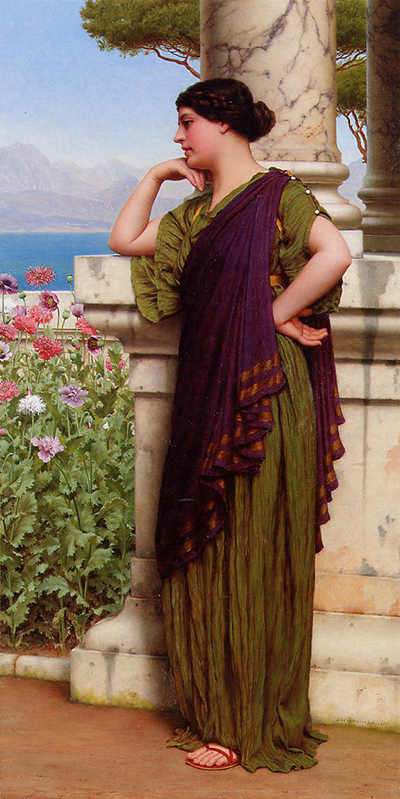 Buy Art Prints Now
from Amazon
* As an Amazon Associate, and partner with Google Adsense and Ezoic, I earn from qualifying purchases.
Tender Thoughts is completely in keeping with the English artist, John William Godward's large and quite astounding portfolio. It's a perfect portrayal of a typical neoclassical piece - brimming with bright, vivid colours that depict a summery, yet mysterious ambience.
The girl in the photo appears to be deep in thought, lost in the chasms of her own mind as she looks out to a vibrant backdrop. This backdrop is also particularly befitting of neoclassicism, in that it resembles the picturesque seafront that the girl beholds, from the comfort of her Ancient Roman balcony. The marble column that she is so elegantly idling against all but confirms this. Though, there are some who believe that she hails from Ancient Greece, rather than Ancient Rome. Godward used oil on canvas to create the classical approach to this piece. Without the distinctive Godward oil, the detail and beauty within the maiden's gown and the flowers, the sea and the marble would surely have been lost.
Tender Thoughts was one of Godward's later pieces, birthed from his brilliant mind in 1917 - five years before he is said to have committed suicide - just as the neoclassical era began to make way for the concept of modern art. One could only imagine what was going on in his head at that time. Was the fair maiden in the painting thinking the same as Godward as she gazed out to the magical skyline? Godward's inspirations sprung from the likes of the English artist, Sir Frederic Leighton; and more closely still, by the works of the Dutch painter, Lawrence Alma-Tadema, with whom he shared a habitual liking for the rendering of classical architecture. Alma-Tadema and Godward both studied architecture in an attempt to make their work more absolute.
There's no denying that this piece of art is absolute, whilst also being absolutely enchanting in its own right; but where is it now? Whilst the painting is in the public domain, it is currently in the hands of a private collector. The Tender Thoughts original piece is valued anywhere between £120,000 and £180,000. So to find it would require keen detective skills, and to buy it would require a sizable wallet.