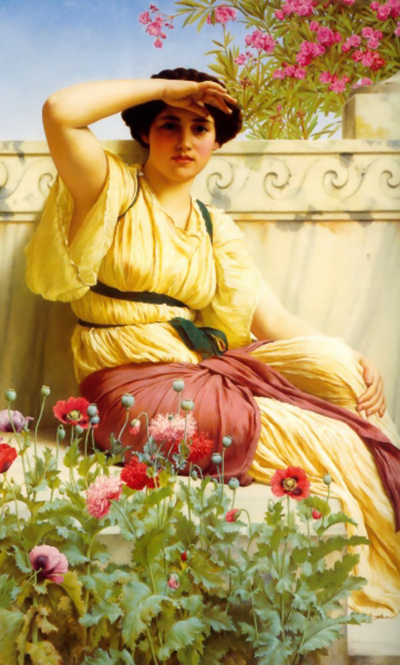 Buy Art Prints Now
from Amazon
* As an Amazon Associate, and partner with Google Adsense and Ezoic, I earn from qualifying purchases.
The English artist, John William Godward was a Victorian neo-classical artist known for his many works that show beautiful women posed in classical dress. One of those works was a painting titled A Tryst.
In 1912, ten years before his death, Godward was living in Rome. While there he painted A Tryst. It is a portrait of a young woman that measures 127 by 78.7cm and is an oil on canvass work. It has his signature J. W. GODWARD and the date, 1912. Up until 1933, it's thought that the owner of the painting was the Maharajah Jam Sahib of Nawanagar. It is now in a private collection. The picture is typical of many of Godward's works. It shows a young woman, in the classical dress of a Roman woman who is wearing a pale yellow toga. She is sitting on a marble terrace with her hand raised to shade her face from the glare of the Mediterranean sun. The woman appears to be looking out of the picture as she waits for a loved one to arrive.
At the front of the picture, there are poppies of differing colours and varieties. Although the red poppy has a specific meaning in Greco-Roman mythology, it does not appear that this was Godward's intention. The likely reason for including them is that they provide decoration. As for the wave decoration that is on the garden wall, this gives the viewer the idea that the terraced garden overlooks the sea. Godward uses this depiction of the terrace in many of his paintings. When it comes to Godward's artistic style, the painter Sir Lawrence Alma-Tadema was a big influence. Because of his influence, Classical civilisation, chiefly Ancient Rome, features in many of Godward's works. He did sometimes include elements from Ancient Greece in his work.
Godward's style was to use intense colour as well as detailed views of the surroundings in his pictures. The decorative beauty is visible in the women in his paintings. For example, they nearly always appear in sunny settings that overlook the Mediterranean Sea. Colourful flowers also appear in many of his paintings. Godward uses the flowers to provide a beautiful surrounding for the marble structures in the pictures.