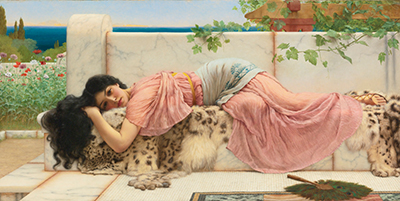 Buy Art Prints Now
from Amazon
* As an Amazon Associate, and partner with Google Adsense and Ezoic, I earn from qualifying purchases.
John William Godward was a painter from England who moved to Italy to follow up on his passion for art. The when the heart is young painting captures the beauty of a woman and the longing in her eyes. When the Heart is Young is done with precision, and every detail of the portrait shows skill and talent from the beautiful curves of the lady, to the soft touch of her face.
John William Godward paintings used the Victorian neoclassicism style to show the beauty and elegance of everything he painted. John William was born when the Victorian era was coming to an end, and this influences his style of painting a lot. This technique incorporated colour, landscape, fur and flowers to make a beautiful painting stand out. When painting the when the heart is young painting John William used oil and canvas as the main materials. The oil and canvas blend in together very nicely to form clear paintings and show the precision of every stroke. Additionally, the use of oil and canvas brought out the contrast in the colour of the young woman and the landscape around her.
Most of John William Godward paintings were commissioned by clients who wanted to capture the beauty of their partners. Most of John's painting in particular when the heart is young was lost for over a century. The painting of when the heart is young is now part of a private collection in New York USA. The painting shows a young woman resting peacefully on a marble bench. The woman seems to be lost in thoughts, and her eyes show longing.
Most of John William Godward paintings were inspired by Sir Lawrence Alma Tadema who was his mentor and teacher at the royal academy. His style was influenced by the Victorian era which he was born into. Unfortunately, since the Victorian neoclassic style was becoming to an end most of his knowledge was not passed down to any new students. When the heart is young portrait shows of a young woman resting on a bench lying on a fur. This painting shows the beauty of a lady and the beautiful landscape surrounding her.