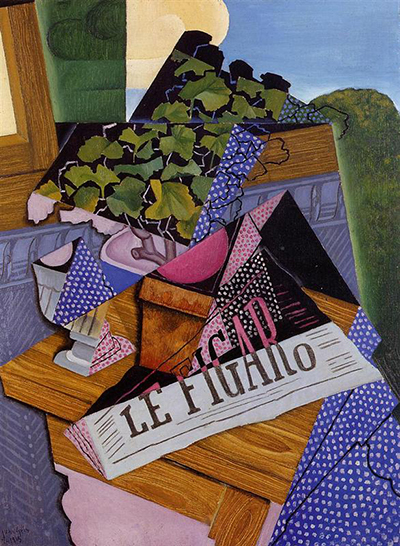 Buy Art Prints Now
from Amazon
* As an Amazon Associate, and partner with Google Adsense and Ezoic, I earn from qualifying purchases.
This bright painting from 1915 was titled A Pot of Geraniums and was completed by Spanish artist, Juan Gris.
It is perhaps the dotted textures that first catch your eye, using a similar technique to another notable painting from Gris, namely Bottle. The Geraniums painting has a brighter balance of colour, with green, blue and pink/purple tones completing an uplifting piece. You will find Le Figaro in the centre of the composition and it immediately captures your eye. This is an iconic French newspaper which also appears in other oeuvre's of the Cubist collective. The movement itself had a preference for several items that they pretty much all used in still life work at some point in their careers - others include bottles, tables, fruit and other cutlery. Laid tables for breakfast or lunch appeared to be the overiding theme in many cases.
The scene that we find here appears to merge the domestic life with a landscape painting, seamlessly. Perhaps we are on a small balcony looking out over a stunning part of France or Spain. The artist produces a very lifelike tabletop, with all of the flourishes of the natural wood finish visible. One assumes the patterened elements to be table cloths but it is always harder to identify some objects within the work of the cubists. They would amend angles away from reality which will always challenge your mind to understand what we are seeing. There is also foliage which after some closer inspection would appear to be a plant with accompanying vase that is positioned on the far end of the table.
There appears to be a small window to the far left and then a view of the surrounding landscape to th right, with a shining sun placed centrally. It is an uplifting piece within an art movement that could sometimes be darker and moodier - see some of the paintings by Georges Braque for examples of this. Having worked as a professional illustrator in the early years of his career, Gris would always complete artworks that looked smart and tidy, with precise finishes to his objects. This type of fractal formation found in the cubist style would require considerable planning through whole series of study drawings.