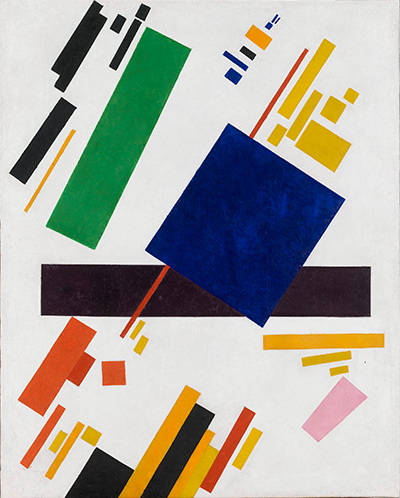 Buy Art Prints Now
from Amazon
* As an Amazon Associate, and partner with Google Adsense and Ezoic, I earn from qualifying purchases.
A ground breaking artist and art theorist who took ideas from his age and developed and refined them through his own work, Kazimir Malevich was a leading figure in the Suprematist abstract art movement.
Born in 1878 to a Polish Catholic family, Malevich lived through, and at times suffered, the turbulence of Russian politics prior to his death in 1935. Much is made of Malevich's humble beginnings, and rightly so. His story is one of natural talent and unique insight raising the individual above their circumstances. Malevich's parents were Polish and essentially refugees, having fled Poland after the failed January Uprising against the Tsarist army in 1863. At the time of his birth they were living in Kiev, however his father worked among the sugar factories and at times in railway construction. As a result the family moved around the Ukraine, sometimes living in the middle of sugar-beet plantations.
Kazimir was the oldest of fourteen children, although only nine of his siblings survived to adulthood. In his early life he had little or no contact with art- he himself was also employed in railway construction for a time. Yet aged 12 and with no noticeable encouragement he began to draw and had decided that he would be an artist. In truth there was art around him during his childhood, as society at large is full of art in different styles and forms. Malevich was interested in peasant embroidery and could paint in a peasant style, he enjoyed wall paintings and painted stoves- the things around him that were art. His circumstances were humble and an unlikely start for an artist, but his own passion and enthusiasm were the driving force in achieving his ambitions.
Family Life
Kazimir's father died in 1902. Although he had previously studied art in Kiev, the inheritance he received made it possible for he and his family to move to Moscow to further his art studies. Information about Malevich's personal life is patchy at best. He was married three times. From 1899-1909 he was married to Kazimira Zgleits whom left him. From 1909-1923 (when she died after contracting tuberculosis) he was married to Sofia Rafalovich and from 1927 until his death in 1935 Natalia Manchenko was his wife. In total 5 children are attributed to him: Georgy (1901), Anatoly (1902), Galina (1905) Una (1920) and Ivanna (unknown). Sadly only Galina and Una survived to adulthood; Una having worked to restore his reputation after his death.
Malevich in Moscow
The move to Moscow allowed Kazimir to study art at the Stroganov School of Art and to take private lessons from Ivan Rerburg. He next went on to train at the Moscow School of Painting, Sculpture and Architecture where he was taught in Impressionist and Post-Impressionist techniques. These played a significant part in his early work, until the Symbolist and Art Nouveau styles changed his direction. Malevich became acquainted with the artists Wassily Kandinsky and Mikhail Larionov from 1907, hailing a change in his style towards the avant-garde from this time onwards. In 1910 he was invited to join the Jack of Diamonds (an exhibition collective) by Larionov. In addition he was also a member of the Donkey's Tail and Target artistic groups.
In essence Malevich was showing his interest in abstract ways of expressing himself. Primitivist, Cubist and Futurist art theories were brought into focus by these alliances. Malevich fell out with Larionov, leaving the Jack of Diamonds and instead became a key figure in the Futurist artist group called Youth Union or Soyuz Molodezhi. Between 1912-1913 most of his work was Cubo-Futurist in nature, mixing the styles of Italian Futurism with Synthetic Cubism.
From Cubism and Futurism to Suprematism
Ultimately Cubo-Futurism was not abstract enough to satisfy Malevich. In his 1915 essay 'From Cubism and Futurism to Suprematism' he outlined his ideas of pure abstraction, paving his own way forward in art. It was also in 1915 that Malevich produced one of his best known paintings: Black Square. Today it is still an iconic work, often discussed and referred to. It is exactly what it says it is, a black square with a white background painted on top, but it is also much more than that.
The black square has depths of brush strokes, fingerprints and colour that are visible to the viewer. In addition Malevich saw the black square as a representation of something- of feeling- whilst the white background was nothingness. The idea behind this (and other Suprematist works) is to remove form from the work in order to remove logic and reason. This freed the viewer to be able to concentrate on pure feelings instead, and to formulate this into absolute truth. The Black Square, and by association Malevich, mark a turning point in twentieth century art. It has been referred to as a zero point in painting, both for the ideas of pure abstraction that it represented and because of its impact on art.
The October Revolution
Malevich was a supporter of the revolution, and the era immediately after the revolution was one of new opportunity and possibility for him. He took up teaching posts at the Free Arts Studio in Moscow, the Kiev State Art Institute, the Leningrad Academy of Arts, the Vibetsk Practical Art School in Belarus and was a member of the People's Commissariat for Enlightenment. He continued to encourage his students to abandon the painting of form in order to explore pure abstraction. He also tried to relate his ideas of Suprematism to the new state order through his book O Novykh Sistemakh v Iskusstve (On New Systems in Art).
Interestingly Malevich was not blind to the volatility of the times he was living through. Whilst he and the UNOVIS group that he had formed produced propaganda for the new regime, he believed that post-Lenin and Trotsky state interest in art would move away from Modernist theories, and this was proved true.
Malevich in Europe
In 1927 Malvich was given permission to travel and exhibit his works. He was given a hero's welcome in Warsaw, meeting former students and being influenced about the new art movement of Unism. He also visited Berlin and Munich where he showed a retrospective that brought him international recognition. It was because of this trip that there is so much of Malevich's work to enjoy still. Having recently been arrested and interrogated by the state he arranged to leave much of the work for his show behind in Germany, in expectation of a change in his popularity back in Russia. He was right- within a short period the tide had turned and his style was more than out of favour.
The Later Years
The Stalinist regime was not kind of Malevich. In a very short period he fell very hard. By the time of his death he was not allowed to produce or exhibit the art that had brought him to prominence or to teach his theory of art. Social Realism was Stalin's preferred art movement and everything else was superfluous. Many of his works were confiscated and destroyed and he was imprisoned and interrogated again. His works were included in a state-funded exhibition, but were labelled with slogans that suggested his work was degenerate and anti-Soviet.
Malevich continued to paint, but his work reflected the changing times. Instead of the abstraction he had espoused he now produced works of peasants and genre scenes, whilst also producing portraits of family and friends. Kazimir Malevich died of cancer in 1935, obscure and overlooked. His ashes were buried, according to his wishes, at his home at Nemchinovka. He had requested to have an architekton to mark his grave, but this was not permitted. Instead it was marked by a white cube with a black square until this was destroyed during the Second World War.
Legacy
The humility of his passing has long been eclipsed by the influence that his work has extended over the art world. There have been major exhibitions in recent years, including one at the Tate Modern in 2015 to celebrate the centenary of the Black Square. His revolutionary work continues to influence artists today.