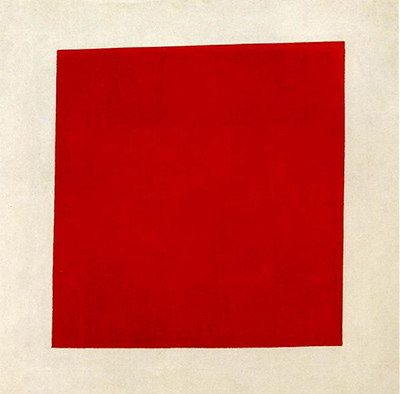 Buy Art Prints Now
from Amazon
* As an Amazon Associate, and partner with Google Adsense and Ezoic, I earn from qualifying purchases.
When Kazimir Malevich created the 'Red Square', he envisioned his creation as an abandoning of all materialism. The painting is a representation of simplicity in its purest form with a red quadrilateral on a white field.
While the colour evokes traditional religious icon paintings found in Russia, the style is a complete abstraction. Originally known as Painterly Realism of a Peasant Woman in Two Dimensions, it is left to the viewer to make the connection between the concept and the image.
The art world embraced the Red Square as a key starting point for the Constructivism movement, although the painting was criticised by contemporaries when it was first created. Malevich saw the painting as a representation of his ability to go further into the unknown of life and his spiritual feelings. By delving into life's unknown, the artist believed that a transformation can take place.
Created in 1915, Malevich's 'Red Square' recalls works by other abstract painters, including Wassily Kandinsky. Kandinsky was another leading painter and art theorist known for his purely abstract works. Born in Moscow, he lived in Germany and France. Both artists embraced themes related to religion and spirituality as well as the examination of our inner thoughts and consciousness. Malevich goes further than just creating representations with his painting. He focused on creating symbols with his paintings.
He also effectively contrasts colours, such as the active feeling of red with the passiveness of white in the 'Red Square'. Malevich believed both colours represented all colours of the spectrum, and by using both he was showcasing all colour. By comparison, Kandinsky's works often features a kaleidoscope of shapes and colours.
The 'Red Square' is held in St. Petersburg at the State Russian Museum. The original oil on canvas measures 53 by 53 centimetres, to 21 by 21 inches. It painting is similar other works by Malevich, including four back square paintings that the artist started creating in 1912. He felt the square represented all forms of art since it was a basic shape used time again and time again by all artists. Like the 'Red Square', his black square paintings feature a white background.
By 1928, Malevich moved towards a new style that embraced a blend of shapes and colours. 'Girls in a Field' represented bright colours and the figures of three girls in a bold statement about political oppression Russia was facing following the First World War and the Russian Revolution.
Kazimir Malevich was born in 1868 to a Polish family near Kiev in what is now Ukraine. The Russian painter and art theorist was a pioneer in geometric abstract art.
He was also the founder of the avant-garde Suprematist movement in around 1913. The movement focused on basic geometric forms in a limited range of colours. Malevich was also a Christian mystic and used his art to illustrate his believe that artists should showcase spiritual feeling in their work. His manifesto 'From Cubism to Suprematism' and famous works such as 'Black Square' and 'White On White' were influential in the movement.
Malevich died in 1935 in Leningrad (present day Saint Petersburg). In honour of his art, his ashes were buried in a grave marked by a black square. Works by Malevich are found in the collections of major art museums around the world, including the Museum of Modern Art and the Guggenheim Museum in New York City.
His works are also based at Moscow's State Tretyakov Gallery in Russia and the Stedelijk Museum Amsterdam in the Netherlands. A major collection of Malevich's art is also in the Thessaloniki State Museum of Contemporary Art in Greece.