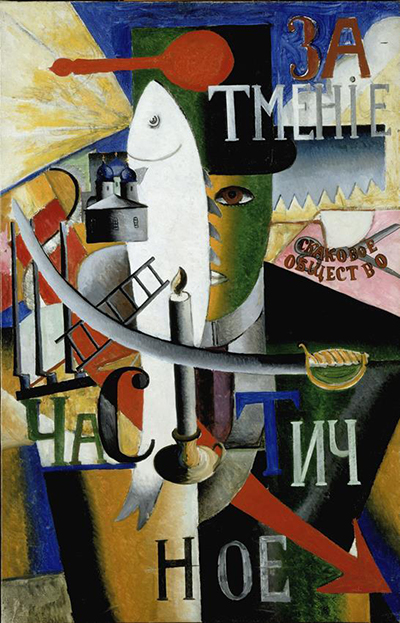 Buy Art Prints Now
from Amazon
* As an Amazon Associate, and partner with Google Adsense and Ezoic, I earn from qualifying purchases.
An Englishman in Moscow was completed by Kazimir Malevich in around 1914 and it is believed to now be Under the ownership of the Stedelijk Museum in Amsterdam.
Indeed, a number of Malevich's paintings and drawings made their way from Russia to the Dutch capital during the early 20th century. In most cases it was local collectors deserting the country's political turmoil for safer havens in Northern Europe. On other occasions it was the Russian Government who sold on works by the likes of Malevich and Kandinsky in order to deal with shortages of finance at that time. There was a study sketch discovered in recent years which Malevich produced whilst planning for the very painting that you find here. The composition is virtually identical, perhaps one of several created by the artist before embarking on the final oil painting.
There are a number of objects to be found here, all with symbolic relevance, one would immediately imagine. There are aspects here that remind us of Cubist still life paintings by the likes of Picasso, Braque and Gris. The gradients of colour were also used by Fernand Leger. The gentleman is filled with gradients of colour, unlike many of his more simple abstract lines and shapes found in other work. He used this same colouring technique for his depictions of peasants, a theme he made use of on several different occasions. If one takes a step back to examine this piece in summary, we can essentially see different compositions that would normally be produced independently, merged together into a busy and perhaps overpowering scene.
The Stedelijk Museum, Amsterdam is a fantastic venue that sometimes gets forgotten by tourists to the country who are swayed by other more prominent museums in the city. Anyone interested in contemporary art will find lots to enjoy here, including a number of different paintings from Malevich's career alone. Although we consider Malevich to very be a Russian artist, albeit from a region now known as Ukraine, he did journey to the west several times and was keen in promoting work such as this there. He found it logistically and politically difficult to have a foot in both regions, so to speak, but was just about able to navigate the difficult period in which he was attempting to spread his reputation abroad.
Malevich was never a Surrealist artist, but to find seemingly random items placed together in ways that would not normally be seen, is, in essence, the main trademark of Surrealist art. Other contemporary artists would re-use certain items within a type of visual language that could sometimes take many years to put together. When we find artists doing this, we can quickly decipher their abstract touches through our knowledge of previous pieces. This is an example of how those new to these artist's work will be immediately confused and dismissive, where as those who have studied that period of their work, will immediately understand most of what they are viewing.