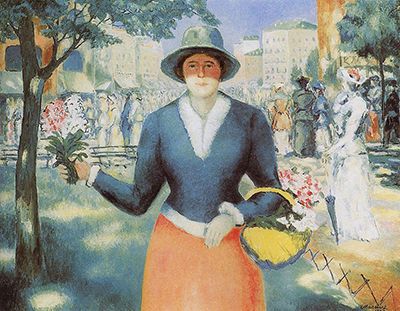 Buy Art Prints Now
from Amazon
* As an Amazon Associate, and partner with Google Adsense and Ezoic, I earn from qualifying purchases.
Kazimir Malevich produced several versions of the same theme which he titled as Цветочница, or Flower Girl. They all appeared in the year of 1930 and at this point the artist was coming towards the end of his life.
In front of us here we see a delightful portrait of a smartly-dressed woman walking around a highly built up city. She appears to be within a local park and carries some flowers in her right hand. The angle of her right arm seems a little straighter than one might expect for a natural pose, but the rest of the figure looks relaxed and comfortable. She has a small basket that hangs from her left arm, yellow, and with an assortment of flowers within it. Her outfit is in two main colours, with a bright orange dress and a dark blue coat, the two separated by a white band which stretches across her waist. Her hat is simple but effective as it protects her from a fierce sun. She looks contented within this natural environment, perhaps enjoying an escape from the surrounding city. Malevich would often place his subjects very close to the viewer, making them dominate a scene, regardless of what other details were included.
In the background we find a highly detailed selection of content, with a large number of figures joining this woman within the park. All are dressed elegantly, with long dresses typical of this period. It may be something like a market setting in the background, because of how busy and packed the area appears. This certainly seems to be leisure time, and this positive atmosphere is helped by the bright sun which presumably lurks above, as indicated by the bright, cloud-less sky. Two trees line the sides of the composition in order to provide a vertical balance to the scene and there is also shadowing around the main subject which helps to bring about depth and contrast to the overall painting. This may not be one of the artist's most famous paintings, but there is still plenty to see and enjoy here.
This painting can be found in the Russian Museum, located in St Petersburg. They hold a great selection of art from across ages, with a strong focus on the nation's own output. Malevich, clearly, is entirely deserving of his role within this venue, but there is much more to see besides his own work. Ilya Repin can be found here and is well represented by a number of paintings, including Reply of the Zaporozhian Cossacks and What Freedom! Top of the list must by Malevich's own Black Square, which can be considered an iconic image, internationally, and continues to draw attention to his own career from new generations even today, with many then taking the opportunity to delve deeper into his considerable and highly diverse oeuvre.