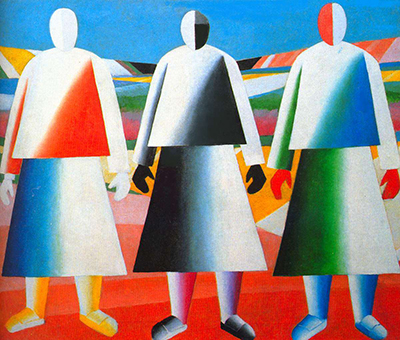 Buy Art Prints Now
from Amazon
* As an Amazon Associate, and partner with Google Adsense and Ezoic, I earn from qualifying purchases.
Girls in the Fields captures the standard method by which artist Malevich would capture the lives of peasants within his work. He regularly tackled this theme and normally liked to push his portrait subjects right up to the front of each scene.
Here we find three figures carefully arranged into each third of the painting. They are identical in shape, but filled with a palette of different coloured gradients. This was a niche form of Cubism where heavy transitions of colour help to provided an element of depth to otherwise flat shapes. The work of Fernand Leger would follow a similar path to this, and overall there would be many offshoots within the main umbrella of Cubist art. Behind these three imposing figures is a fairly barren landscape which is devoid of detail across the environment, though the artist adds considerable interest by providing stripes of bright colour across the open expanse of land, as well as across the hills as well that can be seen in the very far distance. Malevich at this time of his career would use anonymous faces, filled just with an assortment of colours which left behind a slightly unsettling finish to his portraits.
Malevich would come from fairly modest beginnings and he never lost touch with the poorer parts of Russian society, even when his career started to take off. He had over a dozen siblings but many would pass away in their infancy and so it could never be said that he himself had had an easy life. Also in later life he would come under pressure to avoid such a strong use of abstraction, with some in Russia demanding a return to more traditional methods. He would manage to find a balance in the end, but had to move away from his more extreme earlier versions of Suprematism in order to avoid controversy. Today he is rightly regarded as one of the most important Russian artists in history and remains highly respected right across the world. Other related paintings where he also tackled the theme of peasants and the rural worker community included the likes of Taking in the Rye, Peasant Woman and The Knifegrinder.
Девушки в поле, to use its original Russian title, was produced in 1932 which was just a few years before the artist passed away. You will see here how he had moved away from true abstraction to allow us to identify elements from reality once again, whilst still working within a fairly modern way. This would become known as his Neo-Suprematist style, and both versions of that movement were heavily linked to his own career. Today we can find his work on display in major Russian art galleries which underlines how over time the nation has come to respect and love his achievements, even the ruling powers who have moved with the times.