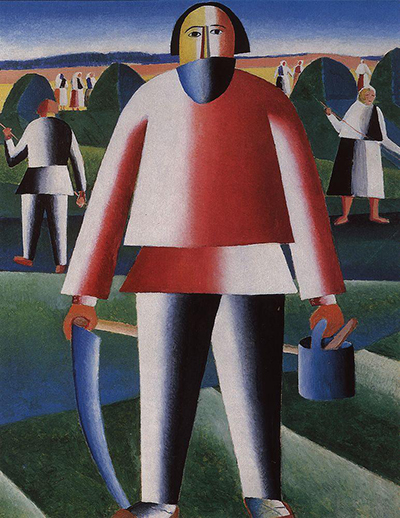 Buy Art Prints Now
from Amazon
* As an Amazon Associate, and partner with Google Adsense and Ezoic, I earn from qualifying purchases.
Haymaking features a single figure portrait in the foreground, with many more people dotted around in the distance, which is entirely typical of the work of artist Malevich. He brought attention to the lives of the working poor in Russia through his modern art styles.
In front of us here we find a worker dressed in simple, hard wearing clothing that would be suitable for working the fields. He sports a red tunic which is gradiented in colour from red to white in a style which reminds some of the work of Cubist Fernand Leger in France. His trousers are black and white, and he holds his required work tools in his hands which hang by his side. His hair is simple and relatively unstyled, and the artist uses tones of blue and a mustard yellow across his face. Malevich liked to combine a modern style of art with traditional content and regularly featured peasant life in Russia, including two series of work which became known as his First and Second Peasant Series, with this painting coming in the latter, in around 1929.
Its original title was На сенокосе and most describe it as a combination of Neo-Suprematism and Cubism, as the artist continued to develop the approaches which he had already been using for close to two decades. He came under fire from some because of his modern techniques and many urged him to promote the Russian nation in a more wholesome way, which they believed could be done through reverting back to more of a Social Realist style. He would reject those requests but he did avoid his more extreme uses of abstract art, finding a middle ground in which he was happy, but that traditionalists could still identify items within his paintings which had a clear connection to real life.
We can look back fondly at the career of this artist because of how he took traditional content, such as the lives of the working poor, and produced positive depictions of them in bright tones and without the depressing details that other artists had liked to deliver. Malevich felt a strong connection to these people because of his own modest upbringing and so wanted to paint them in a positive light, which is how he worked for several decades. Even in his final years you will still find peasants and the working poor dotted around Russian fields, hard at work and he remains regarded as one of the most influential Russian artists of all time, with little sign of that view changing any time soon.