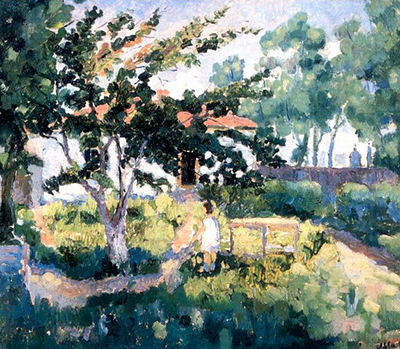 Buy Art Prints Now
from Amazon
* As an Amazon Associate, and partner with Google Adsense and Ezoic, I earn from qualifying purchases.
Summer Landscape is a simple artwork by Kazimir Malevich which now resides within the Russian Museum in St Petersburg, Russia. The reduced detail and expressive colour makes this something akin to the Impressionist style.
The generic title perhaps suggests that this was an experimental piece for Malevich, as he attempted to produce his own take on a classic scene. We see in front of us here a young girl dressed all in which looking around her garden. A small house sits in the background and a large tree dominates the left hand side of the painting. It helps to create a strong shadow which then provides contrast in tone between the areas around the tree and the rest of the garden. The handling of light effects was always a key part of the Impressionist movement, and something that those who specialised within it would have to practice and study in depth in order to truly mastered its nuances. A row of trees make their way across the top of the painting, with a bright blue sky further behind that which allows the artist to use lighter tones elsewhere in the painting.
The painting has been dated at around the late 1920s, but actually some documentation has suggested that perhaps it was started as early as 1905/1906. Very little information on the piece has yet been translated into English, making it hard to really tell you much more about this piece. It is small, at around half a metre in width and height but this is entirely typical of the artist's career, so comes as no surprise to those who have already come across his more famous paintings. Those able to see the piece up close will notice the small dabs of paint which together form a collage of detail. There are no attempts to refine these into more subtle features, and that is the typical Impressionist approach. Malevich loved to try out different styles of art within his career, though most are unaware of some of these interesting variations and focus entirely on his abstract shapes instead.
The Russian Museum is a fantastic venue for art which really brings together the best that this region has to offer, with a variety of work covering all the main styles in which famous Russian artists were involved. The site itself is huge, around 30 hectares in size when including the surrounding gardens of the property. This allows the venue to cover all manner of different events as well as offering a large amount of display space to put out as much of their large collection as possible. Ilya Repin's Reply of the Zaporozhian Cossacks is one of the highlights to be found here, with other Realism artists also included elsewhere in the same building. Malevich's own Black Square is also on display here and the overall venue allows one to really understand the different directions taken by Russian art over the past few centuries, making it a must visit location for those fortunate enough to visit the city of St Petersburg.