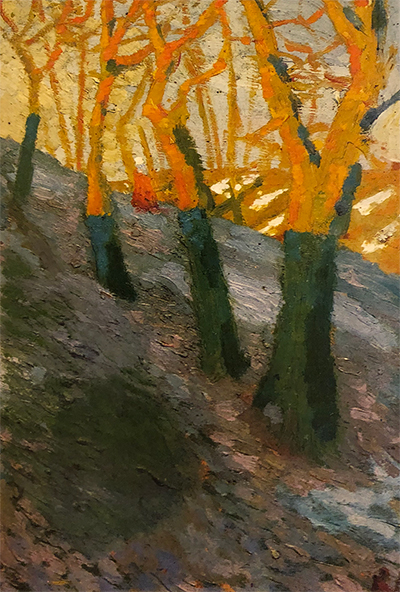 Buy Art Prints Now
from Amazon
* As an Amazon Associate, and partner with Google Adsense and Ezoic, I earn from qualifying purchases.
Trees dates from 1904 to 1905 and it's an oil on canvas painting by Kazimir Malevich, relatively small at 31 x 19 cm. This painting provides an examples of the early work of this artist, using abstract lines similar in a way to some of Klimt's paintings of trees.
There are elements of this painting that also remind some of the earliest work of Piet Mondrian, with a far greater passion and use of colour than any real refinement. The forms are an impression of what the artist was seeing, rather than a full blown realist representation. Academic teaching would always be strongest in artists in the early years, before other influences and ideas would begin to alter their artistic direction. You will find the same with Picasso, a master of Cubism and Surrealism, whose more traditional early work included Science and Charity, First Communion and Barcelona Harlequin.
The most notable part of Trees by Kazimir Malevich would have to be the contrast that falls across the canvas, diagonally. The artist uses green on both sides, but the remaining palette is light against dark. This delivers an eye catching piece which some would appreciate for its use of under developed form. In some ways, perhaps the artist was experimenting with ideas at this time, both technically and also in terms of composition.
Gustav Klimt was perhaps the most skilled in capturing forests of trees, taking in several different types across his career (see Tannenwald and Beech Forest). He tended to prefer tall, slim trees and would crop a section of forest in his native Austria, and focus purely on these beautiful plants. On other occasions Klimt would cover whole forests as part of a larger landscape scene and perhaps only depict the trees as an overall block of colour, in a similar way to recent work by British artist, David Hockney.