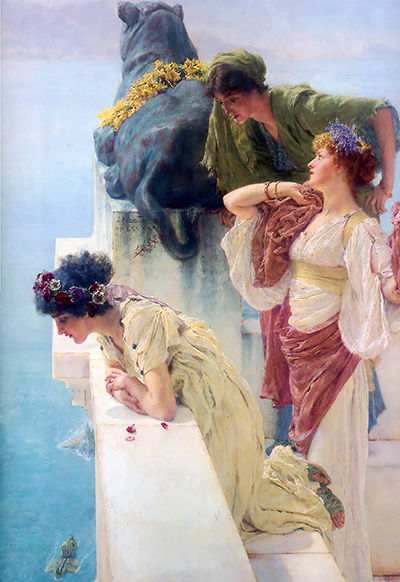 Buy Art Prints Now
from Amazon
* As an Amazon Associate, and partner with Google Adsense and Ezoic, I earn from qualifying purchases.
A Coign of Vantage by Lawrence Alma Tadema represents a typical painting by the famous Dutch-born artist.
An oil on canvas work, it depicts three aristocratic women looking down at a harbour below. The term 'Coign of Vantage' literally means a favourable position for observing. The three women subjects are standing on the balcony watching ships return. The painting elicits a curiosity as to what the girls might behold. It is of Romanticism style. Alma Tadema was a very successful painter in the late 19th Century. He moved to England in 1870 after his first wife died. He had previously studied at the Antwerp Academy and consequently had been influenced by his classical training.
His paintings appealed to the English public as they were highly decorative and romantic. He portrayed scenes of Ancient Rome and Greece which were of great fascination to the Victorian people. His paintings evoked a sense of decadence and luxury. The painting, A Coign of Vantage, combines all of the key characteristics of Alma Tadema's approach. A Neoclassical work that has beautiful women subjects dressed in luxurious clothes, a stunning colour palette and great attention to detail.
The artist became particularly renowned for his skill in recreating marble. The balcony is highly realistic and demonstrates Alma Tadema's ability to create tactile paintings by the use of colour to represent the differing effects of light on various surfaces. The sea and sky merge seamlessly by the way he blended the shades of blue. The artist used rich colours to draw attention to the floral details in the women's headdresses and the garland draped on the statue. The overall result is one of beauty and mysticism.
All of these techniques combined in this painting make it one of Alma Tadema's most ambitious and outstanding masterpieces. Produced in 1895 this painting was one of the artist's later creations. A Coign of Vantage is now owned by a private collector. It has become one of the most popular pieces of Alma Tadema's work to be reproduced and, consequently, one of the artist's most well-known paintings.