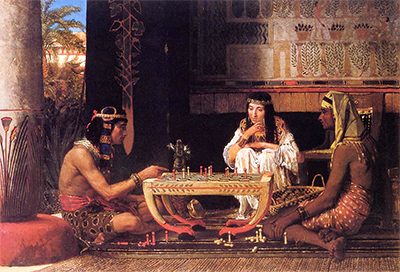 Buy Art Prints Now
from Amazon
* As an Amazon Associate, and partner with Google Adsense and Ezoic, I earn from qualifying purchases.
Egyptian Chess Players is a piece painted in the Romantic period created by Sir Lawrence Alma-Tadema. Tadema was born in 1836 who was born in the Netherlands.
He went on to train as an artist at the Royal Academy of Atwerp which is located in Belgium. Later on in 1870, he went on to live in England and consequently spent the remainder of his life there.
His time spent living in the British culture greatly impacted on the types of paintings he created.
Tadema is mostly known as a painter who focuses on classical periods for his creations. He made his fame by painting scenes of hedonism and luxury of the Roman Empire.
These paintings had traits of figures within a marble interior or set against a sparkling sea and sky.
Tadema's work was greatly favoured during his time alive, due to his depictions of the classical period. However, it became less popular once he passed away. His work was not deemed particularly important again until the 1960's when it was seen as vital within nineteenth century British artwork.
Tadema was drawn to themes of French dynasties and these became most prominent up until the mid 1860's. These paintings are ones that Tadema lost himself within, emotionally and it is here at the strongest feeling of romance speaks out.
Despite his love of this subject, it was not terribly popular to the public in any regard. Tadema then made a decision to change to themes of ancient Egypt and the lives lived in these times.
Not only did he paint these themes, but Tadema researched them passionately, making sure that whether it was French or ancient Egyptian culture - it was as accurate as he could make it.
Egyptian Chess Players is a display of Tadema's care of research and the delicacy of his painting. Though it may have not been his favourite subject, he put his entire heart into it.