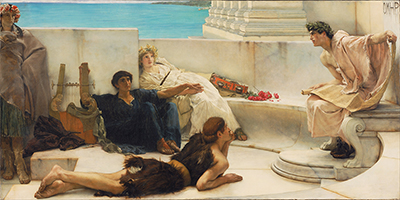 Buy Art Prints Now
from Amazon
* As an Amazon Associate, and partner with Google Adsense and Ezoic, I earn from qualifying purchases.
Lawrence Alma Tadema painted the iconic A Reading from Homer in 1885. Today this famous work of art is housed in the Philadelphia Museum of Art.
What is observed in the painting is a young man, presumably a poet, who is sat in a prominent position while other young people gaze at him in wonder. All appear to be dressed for some type of Greek festival, although the actual festival is not stated. While the title of the painting is that of 'A Reading from Homer', what is most interesting, is that the poet does not appear to be reading, nor is he holding a book, although a scroll of paper can be seen unfurling on his lap. This though appears to be discarded.
The young man who is sat to attention and who has gained the audience's attention is wearing a simple laurel wreath in his hair. What Tadema has managed to achieve is the vision and true essence of the ancient Greek world, but in a light and truly authentic way. The young people are relaxed, enjoying their time listening to the story. There are no airs and graces. It is an event that is to be simply enjoyed.
Two of the young people can be seen reclining and holding hands, while another girl can be seen gazing at the poet, as she is stretched out on the floor, on her stomach, legs raised in the air. Her pose is that of a young woman who is eager to hear what the poet has to say. What is remarkable about this painting is that it is accessible to all, it is not elitist. This is shown with the relaxed postures, the gentle curving of the marble bench and the open, outside space in which the scene is set before us. The colours that are used are light in their tone, they are not heavy, echoing the relaxed theme.