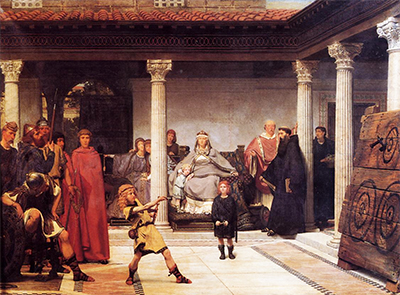 Buy Art Prints Now
from Amazon
* As an Amazon Associate, and partner with Google Adsense and Ezoic, I earn from qualifying purchases.
Lawrence Alma Tadema painted The Education of the Children of Clovis, depicting the training of Clothilde's sons, in 1861. It was his first major work, depicting Merovingian history and was exhibited at the Artistic Congress in Antwerp, where it was very well received.
It was to become his first important work, which set him on the road to success. This oil on canvas is 129.5 x 177.8cm. It was first acquired by the Antwerp Society for the Encouragement of the Fine Arts in 1861. King Leopold of Belgium won it in the ASEFA lottery and it hung in the Royal Palace, Brussels until sold after 1882. It was then owned by Sir John Pender, London and sold at Christie's, London, May 29, 1897). It was sold to a Private Collection, Brazil, in the 1940s and sold, via Christie's, London, in March 25, 1994 to the present owner (private collection).
EXHIBITED The work was exhibited at the following venues: Antwerp, Salon Exposition d'Anvers, Artistique Congress, August 1861. The Hague, Levende Meesters, 1861. Amsterdam, Arti et Amicitiae, 1864. Amsterdam, Arti et Amicitiae, 1866. Paris, Exposition Universelle, 1867. Munich, International Exhibition, 1869. London, Grosvenor Gallery, The Works of L. Alma-Tadema, Winter, 1882. Amsterdam, Van Gogh Museum; Liverpool, Walker Art Gallery, Sir Lawrence Alma-Tadema, from November, 1996 - June 1997, (lent by present owner)
The painting depicts Queen Clothilde, spouse to King Clovis, sitting on her throne, watching her two older sons Chlodomer and Childebert being trained in the art of axe throwing. She is accompanied by her attendants, soldiers and courtiers. Her youngest son Clothar is beside her. The reason for training her sons is to avenge the murder of her parents, who were killed by her uncle Gondobald, King of the Burgundians. It is written in the book: The History of the Frank's Book III in Chapter 6, where Queen Clotilde said: "Let me not repent, dearest sons, that I have nursed you lovingly; be angry, I beg you, at the insult to me, and avenge with a wise zeal the death of my father and mother."
A student of Baron Jan August Henrik Leys (1815-69) at the time, Tadema took it to heart when Leys likened the texture of the marble in the painting to the texture of cheese and he spent a great deal of time perfecting his architectural technique, to the extent that he was jokingly referred to as a marbelous painter.