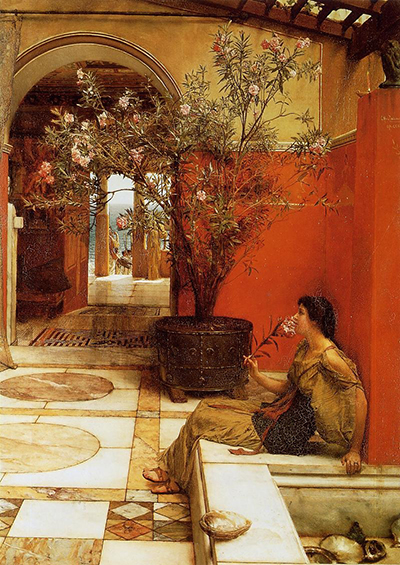 Buy Art Prints Now
from Amazon
* As an Amazon Associate, and partner with Google Adsense and Ezoic, I earn from qualifying purchases.
Sir Lawrence Alma Tadema was a classical subject painter, who became known for his representation of the Roman Empire and admired for his Classical antiquity. He was highly renown in the 19th century and one of the wealthiest painters.
Oleander is also one of the pictures Alma Tadema is famously known for the creativity he used to come up with the drawing. He made use of the frontal area and foundation differentiations of light. A woman is seen seated at the right smelling the strong aroma of an oleander flower, and she appears to be fantasising. From the image, it is clear that Alma Tadema was interested in nature from The flowers and the ocean view. The red walls behind the woman is a show of the romantic nature of the painting. The painting was commissioned by Leon Henri Lefevre in 1882 and first exhibited to the Royal Academy of Arts. Presently, it is possessed by a Spanish-Mexican businessman, Juan Antonio Perez Simon.
In Alma Tadema's painting, he uses oil painting technique. Each oil painting is made by hand using the best canvas, cardboard, mill board, wood and oil paints available. In his oleander, the style of art was romanticism, and the technique was oil. Planning is crucial since it guides the artist in what he will do through the painting process. Alma Tadema made decisions on some essential concepts before he began painting. He decided the subject, format, size, medium and technique, type of support and the colors.
He decided classic costume as the subject, and he sketched to confirm if the elements will work out well and later come up with a larger drawing. The format used is the portrait and the finest canvas suitable for the subject. Furthermore, sizes varied such that he came up with 40cm by 50 cm, 50cm by 50 cm, its height is 91.4cm and width 65.4cm. He had to think if the subject would either look small or large when painted. Its' medium and technique is oil on the medium.