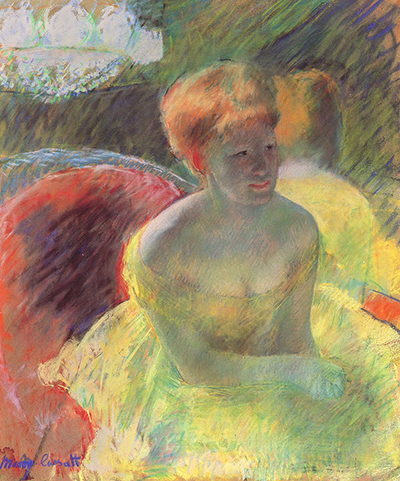 Buy Art Prints Now
from Amazon
* As an Amazon Associate, and partner with Google Adsense and Ezoic, I earn from qualifying purchases.
This pastel painting by Mary Cassatt is not the only painting created from trips to the theatre. This painting was created in 1880 and features artist Mary Cassatt's kinswoman enjoying an evening at the theatre. There is obviously a private party occupying the loge or private enclosure.
Mary Cassatt came from a prominent Philadelphia family, we are told. Family trips to the theatre would have been part of her life. Lydia Cassatt wears an elegant gown and seems to be thoroughly enjoying her evening out. She sits in a plush seat not too far away from a dazzling chandelier. Her dress seems to be primrose yellow. Or is it white, reflecting the light around? It's hard to tell. Lydia Cassatt looks stylish and relaxed, enjoying the theatre and sitting in the midst of her family members. One can tell she is young and very pretty and somewhat carefree. As is the fashion of the time, she is wearing a decollete style, yet looks demure and modest. One even detects a slight blush on her cheeks. Perhaps she was a little shy to be wearing such a revealing dress? Or is she enjoying admiring looks being thrown her way?
It's definitely a happy, memorable evening that we are witnessing. A prestigious social occasion with a top Pennsylvania family of the late 19th century. It's a feeling like stepping back in time and going with this family for an evening. The lighting, the subject's expression, everything seems to point towards a sense of excitement and anticipation. The painter appears to have used the light to convey that sense of excitement and anticipation. What is the play being performed that evening? We don't know. Who else is in this party, going to the theatre? But we know what we need to know.
That Lydia Cassatt is out for an evening at the theatre and she is excited and full of anticipation. Other than that, do we really need to know anymore? The artist and creator of this painting, Mary Cassatt, was born into a prominent family in Allegheny in Philadelphia, in the 19th century. She spent much of her adult life in France, where she lived out her days. She was linked with the impressionist painters, and moved in their circles. She is known for her sympathetic depictions of family life, as she observed in her own family.