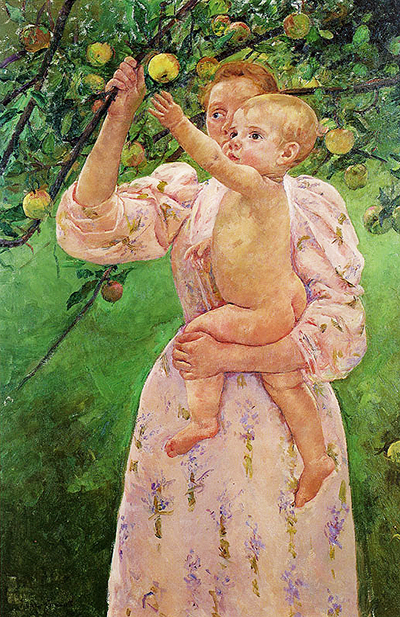 Buy Art Prints Now
from Amazon
* As an Amazon Associate, and partner with Google Adsense and Ezoic, I earn from qualifying purchases.
Child Picking a Fruit was a painting completed in 1893 by Mary Cassatt during her stay in Paris. It was part of her mother and child works where she was able to capture the real and natural love relationship between the two. Mary Cassatt was a leading American artist in the impressionist movement in the 1800s.
In the painting, a mother is helping her young child reach up and grasp a fruit while holding down the branch of the apple tree. The mother's pink dress, face and the baby's body brings beautiful contrast in colour with the green background and the leaves of the tree. The painting was completed in oil on canvas method. This technique originated from Buddhist painters and was later adopted by European countries. It became popular due to its many advantages. The method involves grinding the colour pigments in oil and forms an oily paste that is dispersed on the canvas, depending on the desired pigments and effects. Oil paints are flexible and deep in colour. They can be applied in many ways and are slow to dry. Therefore, artists have enough time to make changes to the painting.
Despite her family objecting to her pursuing art, she moved to Paris with her mother and joined panting classes taught by Charles Joshua Chaplin and Thomas Couture. She was inspired by Edgar Degas, who encouraged her to pursue her desire since her work drew a lot of critics for its bright colours and particular subjects. He introduced her to pastel and engraving, while Mary helped Degas sell his paintings by promoting his reputation in America. Mary Cassatt inspired many Canadian women artists who were part of the Beaver Hall Group, which emphasized the right to paint what an individual felt.
Other well-known and popular paintings by Mary Cassatt include Little Girl in a Blue Armchair completed in 1878, Mother and Child before a Pool, Portrait of the Artist, which was a self-portrait, The Mural of Modern Woman and Reading Le Figaro, and Breakfast in Bed in 1897. In Little Girl in a Blue Armchair, we see a young mother lying in bed, with her arms wrapped around her young child. Child Picking a Fruit is currently housed in the Virginia Museum, in Richmond, Virginia.