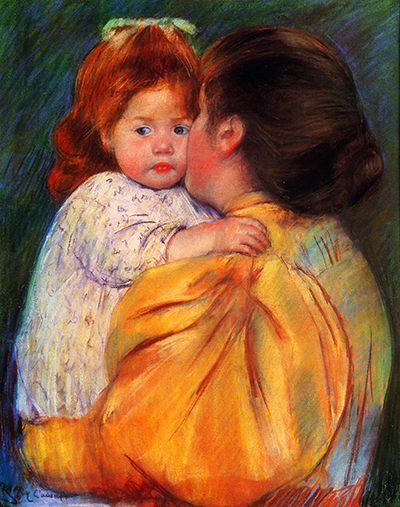 Buy Art Prints Now
from Amazon
* As an Amazon Associate, and partner with Google Adsense and Ezoic, I earn from qualifying purchases.
Mary Stevenson Cassatt was an American Impressionist painter and print-maker who was born in the year 1844 in Allegheny Town, Pennsylvania. She was born and raised in a well of the family since her father, Robert Cassatt, was a prosperous stockbroker while her mother, Katherine Kelso, was from a family background of bankers.
Due to her able family background, by the time she was only ten years, she had already toured most of the cities in Europe, including Berlin, London, and Paris. In the year 1861, Cassatt started learning painting at the Pennsylvania Academy, which was a school of Fine Arts located in Philadelphia. She completed her painting studies in the year 1865. Cassatt caught the attention of a renowned painter, Edgar Degas, with whom they became friends. Degas invited Cassatt to become a member of a group of artists who were dedicated to developing the then-new painting style of the Impressionists. Started from the year 1879 to the year 1886, she was among the three women to exhibit with the Impressionists, and at the time was the only American woman Impressionist.
As a renowned and creative painter, Mary Cassatt produced her painting, Maternal Kiss, as one of the several paintings that she aimed to present in the 1891 exhibition held at the famous Galerie Durand-Ruel located in the City of Paris, France. During the time, Cassatt took a challenge to emulate the creativity of Japanese prints, which she had seen in the exhibition while on tour in Paris the previous year. In the painting, Maternal Kiss, Cassatt expertly depicts the caring and kind closeness shared by a mother and her child through the restricted painting of pattern, line, and color. One line depicts both the mother's left arm as well as the baby's hand, visually stressing on the emotional as well as the physical connection between them.
Similar to the Japanese prints that inspired her, the characteristics depicted on the Maternal Kiss painting compacted space and restricted 3-D modeling. These features portrayed by Cassatt in the painting, Maternal Kiss, further emphasizes the closeness between a mother and her baby. Cassatt painted this portrait using pastel on paper material, which was easily mixed and consisted of soft colors. The artist applied the soft pastel color tones in yellow, pink, blue, or green in depicting nature's beauty and home life. The painting, Maternal Kiss, made Cassatt an international figure in art during her time. This portrait particularly made her popular and a renowned Impressionist painter.