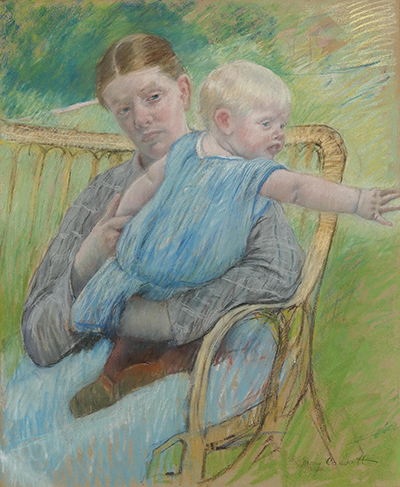 Buy Art Prints Now
from Amazon
* As an Amazon Associate, and partner with Google Adsense and Ezoic, I earn from qualifying purchases.
This artwork features the mother and child relationship which figures so frequently within the career of Mary Cassatt. It is dated at 1889 and carries the title of Mathilde Holding Baby, Reaching out to Right, as per the content involved.
The setting for this artwork is a garden, probably of the family pictured. A mother with a serious expression holds her baby in her arms, whilst it reaches out to our right. It would have been difficult for the artist to work with such young children who are unpredictable and pretty much impossible to keep in the same pose for more than just a few seconds. The baby is dressed in a blue outfit with white trim and has light blonde hair. Her mother is auburn, with a pale complexion and wears a fairly pragmatic grey shawl with either a blue dress, or blanket over her legs. In the background we see the elements of the garden, though they are loosely done so hard to distinguish - this ensures that the main focus remains on these two figures.
This piece is sized at 70cm long by around 60cm wide making it typical of Cassatt's drawings, of those which were completed and not intended purely for the purpose of study. That said, most other artists would not produce pastel drawings this large, and normally followed the standard formats found within their sketchbooks, which were easy to transport and allowed them to work whenever the feeling took them. Cassatt would rise to become one of the most famous female artists, and achieved plenty alongside another notable woman, Morisot. There were also some other women on the fringes of the Impressionist movement and they played an important role in adding new ideas and perspectives into this forward-thinking group who, in the main, welcomed the women in and encouraged them to exhibit alongside the men. This was an important moment and helped to open doors for other women who followed on afterwards and today we have a much fairer art industry, where quality of technique and idea is far more important than an artist's own identity.
Mathilde Holding Baby, Reaching out to Right is dated at circa 1889 and can now be found in the collection of the Carnegie Museum of Art in Pittsburgh, USA. They purchased the item using funding from a variety of sources in order to add this piece to their collection. They list the item as having been produced using pastels, as we know, onto tan paper which was then mounted on board for its protection. Cassatt would often preserve her best drawings by framing them or mounting them, where as less significant ones could be sold on as loose sleeves, perhaps even gifted to friends and family from time to time. The Carnegie itself owns over 34,000 different items, which makes it one of the larger collections within this part of the country and some of the other highlights to be found here include Water Lilies (Nymphéas) by Claude Monet, Place des Lices by Paul Signac, Wheat Fields After the Rain (The Plain of Auvers) by Vincent van Gogh and also a great number of historical antiquities including pottery, weaponry and furniture.