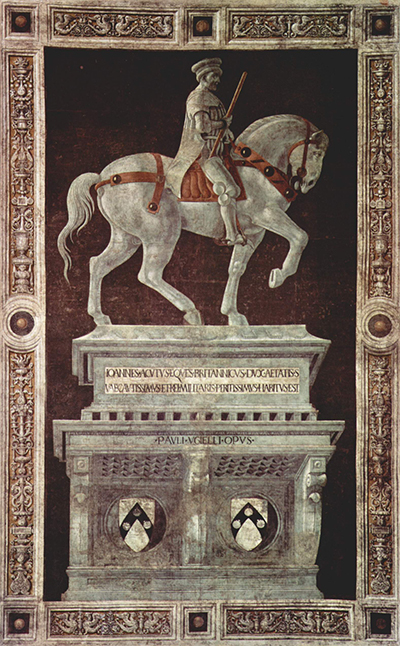 Buy Art Prints Now
from Amazon
* As an Amazon Associate, and partner with Google Adsense and Ezoic, I earn from qualifying purchases.
Funerary Monument to John Hawkwood is a painting by Paolo Uccello that commemorates the English soldier John Hawkwood.
It was commissioned in the year 1436 for the Florence's Basilica the Santa Maria Del Fiore. Funerary Monument is an excellent example of art honouring a soldier who fought in the famous Italian peninsula. The entire politics of recommissioning and commissioning of the painting have been debated and analysed by various historians. The art is often cited as a type of Florentine propaganda for the appropriation of the foreign fighter of fortune as the Florentine hero. Also, some historians interpret the painting as a product of the political competition between Medici and the Albizzi factions in Renaissance Florence.
The Funerary Monument is the oldest and the authenticated work by Paolo Uccello from a relatively famous aspect of his artwork compared to the periods after and before its creation. The painting was once restored by Lorenzo di Credi who developed the frame. The picture has been detached from the wall, and it has been positioned multiple times in the modern times. Paolo Uccello was well-known for his detailed gothic technique and style of painting. When looking at this fresco, it is strange to note that it appears to be in line with a viewer's eye-line while the painting's background, as well as the base of the horse statue, can be seen from slightly below.
After finishing this work, Uccello was requested to repaint the first version of the painting to help reduce the soldierly stance of the first fresco into a parade-like stance or to adjust the perspective to depict or make less of the horse's anatomy in church.
The painting was commissioned decades after the death of Hawkwood in 1433 by the famous Albizzi government. It was just a few months before the collapse of the regime. The Funerary Monument project was an attempt by Albizzi government to harken back the time when the oligarchic elite of the Florence had been aligned its conservative interests. The instigators of the new project were the grandsons of the famous Guido di Solette Pera Baldovinetti. He was among the ambassadors who pleaded with John Hawkwood to return to Florence's service in 1389. The commissioners of the painting did not regard John Hawkwood as an interested mercenary since they knew that he was against the interests of Florence.