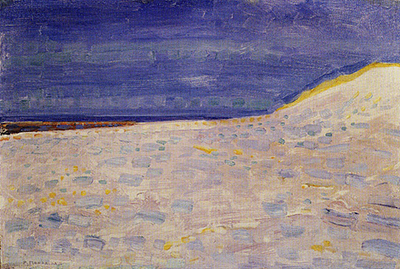 Buy Art Prints Now
from Amazon
* As an Amazon Associate, and partner with Google Adsense and Ezoic, I earn from qualifying purchases.
Domburg provided the inspiration for Mondrian to produce a number of landscape scenes over a period of several years, always visiting in the summer to ensure a consistent supply of light and colour.
He would fill large areas of the canvas with a limited palette of just a few colours and then go over the top with small, individual touches of the brush which served to add detail as well as allowing his colours to be repeated right across the composition. For example, his blue tones for the sky would then be dabbed into areas of the beach, thus creating an illusion of the reflection of light and drawing all of the different parts of the painting together. He actually covered the beach many times over, making use of different dunes and piers in different compositions, constantly altering angles and colours. These were ultimately very modern in appearance but feel relatively traditional when compared to the Neoplasticist artworks for which he is now best known.
This painting is a part of the collection of The Judith Rothschild Foundation in New York, US. It is 67cm wide by 46cm tall and features slightly fewer touches of pointilism than his other landscape scenes from the year of 1909. Mondrian had visited this region a year earlier and at that point may not have expected to return again as frequently as he did. He became entranced by the scenery, the simplicity and beauty of it. He could work by himself when he wanted, and also seek out other artists when necessary for discussions and the sharing of ideas. There were a number of avant-garde painters in this region at the time.