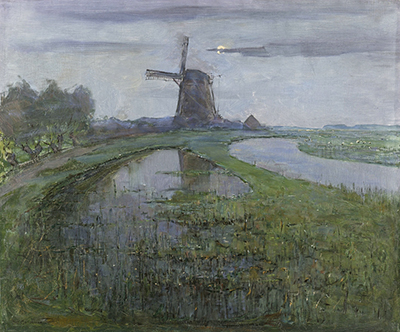 Buy Art Prints Now
from Amazon
* As an Amazon Associate, and partner with Google Adsense and Ezoic, I earn from qualifying purchases.
This work from Mondrian arrived in 1903 and can be found in the collection of the Rijksmuseum in Amsterdam's Museum Square.
Interestingly, we do know that Mondrian visited this gallery in person and sketched a number of artworks. It is believed that this painting was inspired by his viewing of Paul Gabriel's In the Month of July though he chose to take the style in quite a different direction. The Hague School is generally known to have interested him in his early years, and few could have predicted the later abstract work, for which he is now more famous. The Rijksmuseum itself holds around one million items within its collection and is particularly impressive in its representation of Dutch art. Highlights include The Night Watch and The Jewish Bride by Rembrandt plus The Milkmaid by Vermeer.
The majority of landscape scenes from Mondrian were traditional side-on views, where a river might be creeping past alongside a line of trees. He also incorporated this particular windmill into several such compositions. Lighting was an important consideration, as was colour, and he indicated influence from both the impressionists and post-impressionists during this period, such as the likes of Van Gogh, Bazille and Sisley. Some of his brighter tones were also reminiscent of fauvists such as Matisse. In all, he took a variety of influences into his early landscape paintings and it is unfortunate that these have been over shadowed by his Neoplasticist art, such as Composition with Red, Blue and Yellow.
Abcoude, on the Gein River, is the location of this famous mill. Those interested in Mondrian's career and a fellow Dutch native might consider a visit, as it has been well preserved in recent years and continues to attract regular streams of visitors. Besides the connection to this artist, it is also a highly picturesque location that others will also likely appreciate. The landscape in this region is famously flat but still stunning, when you discover some of the traditional villages, long rivers and trees that line their banks. It is easy to see how this region inspired so many young artists to paint landscapes in the early 20th century, just as so many other genres and styles were becoming available for the first time.