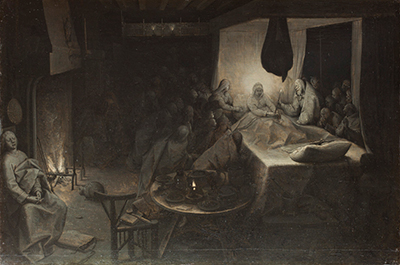 Buy Art Prints Now
from Amazon
* As an Amazon Associate, and partner with Google Adsense and Ezoic, I earn from qualifying purchases.
This dimly-light painting was produced by Pieter Bruegel the Elder in 1564 and is now a part of the collection of Upton House, Warwickshire, UK.
The style of this piece is slightly unusual for the artist, where he would normally produce outdoor scenes which enabled him to also display his considerable landscape painting skills. Examples of that include Hunters in the Snow and Netherlandish Proverbs. The painting in front of us, which is actually known as The Dormition of the Virgin by it's owners, places within a bedroom setting, with most figures surrounding the bed. This is the main reason for the lack of brightness, though a small fire is lit in the opposing corner. There is also a brightness around the main figure that lies in the bed, giving a biblical type atmosphere. The Virgin sits up in her bed as those closest to her within her life try to keep up her spirits.
Saint Peter is found here handing over something to the Virgin, as she approaches her last moments of life. Mary Magdalene and perhaps St John are also pictured, with the latter found on his own in the far left of the scene. The crucifix, such a symbolic item within Christianity, is also displayed on the Virgin's bed, propped up on a pillow in order to give her comfort and strength during a time of need. Another important aspect to this painting has been it's owners, prior to Upton House. Incredibly it was once owned by Peter Paul Rubens, who himself is one of the most respected artists in history and from the same part of Europe as Bruegel. It had previously been owned by a man called Abraham Ortelius who was a respected 16th century geographer.
Those heading to Upton House, Warwickshire in order to view this painting should make sure ahead of time that it is actually on display as museums and galleries will often rotate their collections in order to freshen them up as well as loaning items in and out on occasion. Aside from this artwork they also have a number of other paintings worth viewing, with a focus mainly on British art. You will find here, for example, Morning and Night (two of the Four Times of the Day) by William Hogarth as well as The Labourers, The Haymakers and The Reapers by George Stubbs. There is also Bruegel's own Massacre of the Innocents, which is being prepared for restoration at the time of writing.