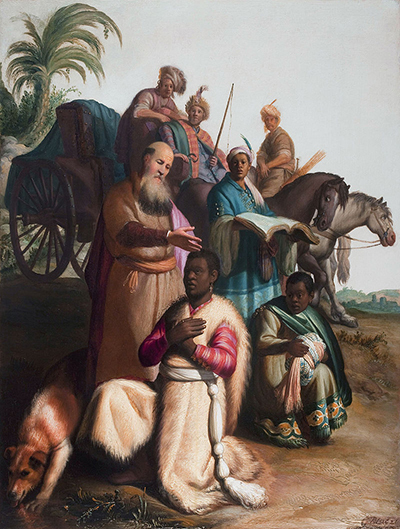 Buy Art Prints Now
from Amazon
* As an Amazon Associate, and partner with Google Adsense and Ezoic, I earn from qualifying purchases.
The Baptism of the Eunuch perfectly displays the early style used by Rembrandt, with this painting completed in 1626, when he was just 20 years old
The Baptism of the Eunuch and Balaam and the Ass arrived in the same year and a quick comparison will underline how similar their styles were. Neither are what we consider classic Rembrandt, but still there is much to enjoy from seeing one of the great masters learning his trade and developing his own artistic path.
This religiously themed artwork depicts Philip the Evangelist baptising an Ethiopian man whilst a whole host of other figures look on, including several soldiers on horseback. This scene marks the creation of the Ethiopian Church in Acts 8:26-39 as part of a journey from Jerusalem to Gaza. The title of this painting refers to a Eunuch, which is essentially a man who has been castrated.
Rembrandt would also produce a drawing and etching based on this same theme, although it is likely that there were many more related artworks in different mediums that have since been lost in the years that have passed since his career started to dominate the Dutch Golden Age. The drawing itself was clearly a study piece, using very little detail although with the composition being very different to the painting, it is unclear whether this was part of the process towards completing the painting found on this page.
The Baptism of the Eunuch can be found in the Museum Catharijneconvent, Utrecht which also holds work by the likes of Jan van Scorel, Rembrandt, Frans Hals and Pieter Saenredam. To be found in Utrecht and not snapped up by any Amsterdam museums of galleries is perhaps due to its style being from the early stages of Rembrandt's career, before his trademark use of light was developed.