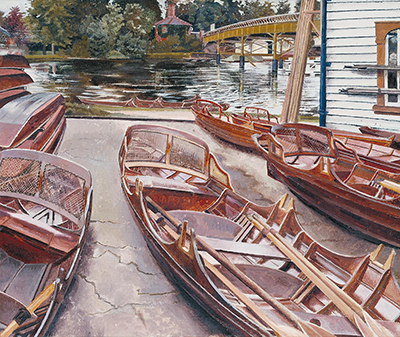 Buy Art Prints Now
from Amazon
* As an Amazon Associate, and partner with Google Adsense and Ezoic, I earn from qualifying purchases.
Stanley Spencer's paintings captured the beauty of the English countryside and also provided charming figurative portraits which established him as one of the UK's most popular artists from the first half of the 20th century.
Role of Cookham
The village of Cookham will always be synonymous with the career of Stanley Spencer, such was his love for this location as well as the large number of artworks from his career that were produced here. In honour of this connection, the Stanley Spencer Gallery was set up in his name and it recently received a significant refurbishment thanks to Lottery Funding. It remains the best place to visit in order to understand the artist himself and even visit some of the precise locations of his work.
Additionally, the Tate owns a good number of his most famous artworks, some of which are listed in this section. He produced several hundred paintings during his lifetime and within that would develop very much his own unique style which still feels fresh and modern all these years later.
The artist would use content in his paintings to bring two together two different worlds, namely the natural and spiritual worlds. This had been done before by artists such as William Blake, but Spencer's approach was particularly personal and also did not carry any political messages. He was a strongly religious man who saw elements of God in everyday life, particularly in the picturesque regions near to his family home.
The Mind of Stanley Spencer
His mind was pure, and his positivity would show in the bright colour schemes of much of his work. His expressive style was also apparent in some powerful portraits, some of which featured his close friends and family, and on occasions, even some self-portraits of himself. We can see similarities with the style of David Hockney within both his landscape and portrait scenes, but, of course, Stanley Spencer arrived far earlier.
Remains a Domestic Artist
Cookham's favourite son is highly regarded within the UK but his reputation is not as strong internationally. He has received some significant exhibitions within the UK, including several at the Tate ever since his passing in 1959. When we look abroad, British art is normally summarised by the likes of Turner, Constable plus the Pre-Raphaelites. Some will add in the modern artists of more recent years, but Spencer often falls somewhere in between. His charming landscape scenes of the quintessential British countryside have drawn support from the US, though, just as Hockney has achieved himself.
The prominence and popularity of some of the larger galleries in London may in future help to further establish his reputation, when the next major examination of his paintings appears, which it inevitably will. Even just his national fame has proved enough to force high valuations of his paintings, with several selling at auction in their millions.
Influence of Religion
As a follower of traditional art, as well as a devoutly religious individual, it seems inevitable that Spencer would attempt to draw in influences from Renaissance art at some point in his career. Such themes dominated that movement and set about the push towards all the modern art styles that we now enjoy today.
The artist would have studied these artists in detail for a manner of reasons, such as mastering his figurative portraits as well as gaining inspiration for his connections between the spiritual and natural world within many of his paintings. The most obvious link can be drawn from his large scale frescoes which recreated the Resurrection from his own perspective - these are still considered amongst his finest achievements of all.