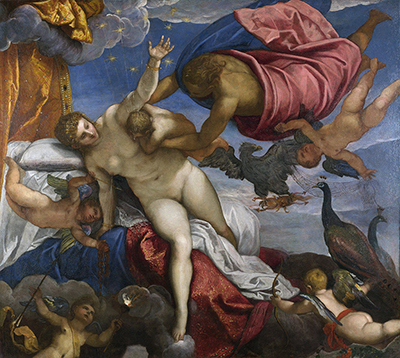 Buy Art Prints Now
from Amazon
* As an Amazon Associate, and partner with Google Adsense and Ezoic, I earn from qualifying purchases.
Jacopo Tintoretto produced The Origin of the Milky Way around 1575-1580 and this is one of several of his paintings now owned by the National Gallery in London.
This painting clearly does not display the origin of the Milky Way from the modern point of view, or even a religious point of view. Instead it centres on the mythological, taking inspiration from a Byzantine publication which perfectly matches the content delivered by Tintoretto in this painting. Their belief was that the milky way was created by milk from Hera as she nursed Heracles, with all that he was able to suckle causing him to take on supernatural powers.
The title of the book which is believed to have inspired this painting was Geoponica tells of hos Jupiter immortalises the young infant, Hercules, by holding him to the breasts of a sleeping Juno. As the milk sprayed across this scene, some caused the immortality whilst others simply produced fresh lilies at the bottom of the composition. Mythology was a great inspiration to many artists during the Renaissance, as well as other art movements, particularly the British Pre-Raphaelites.
Sadly part of the original canvas was later removed, most likely due to damage, and as such you will no longer be able to see the lilies at the foot of the piece.
The world-famous National Gallery in London hosts a fine collection of art from the Renaissance to the Romanticists, and much more besides. It is impossible to even just summarise the highlights of their collection, such is the huge breadth and depth of their list of paintings. To speak only of artists related to Tintoretto, you may be interested to see original work by the likes of Duccio, Uccello, van Eyck, Lippi, Mantegna, Botticelli, Dürer, Memling, Bruegel, Holbein and Bellini also here.