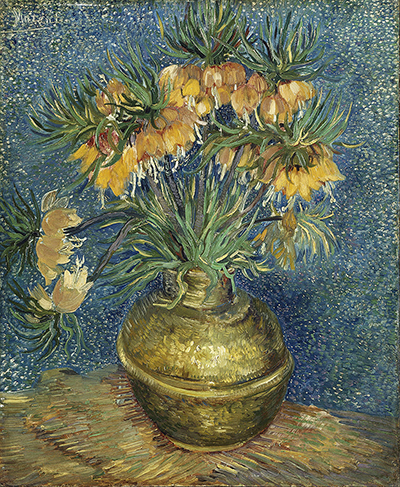 Buy Art Prints Now
from Amazon
* As an Amazon Associate, and partner with Google Adsense and Ezoic, I earn from qualifying purchases.
Painted in 1887, Imperial Fritillaries in a Copper Vase marks a departure in Van Gogh's work as he discovered Impressionism and began to experiment with the form, taking from it the features that he liked while disregarding others.
This painting is perhaps the first of his more mature works, providing impact far beyond the simple subject being depicted. While 'flowers in a vase' is a simple subject, these flowers are Imperial Fritillaries which were introduced to the Netherlands from their native middle east and Turkey by the time Van Gogh was to paint them. The flowers are prized for their lively vibrancy, blossoming in flame shades ranging from near scarlet to palest yellow. His choice of a copper vase enhances the warmth of the flowers and reflects out the colours of the petals which explode out in a riot of liveliness.
This explosive effect is balanced by the table on which the vase is sitting: Van Gogh's soon to be signature impasto effect (in which paint is applied so thickly that it is almost a mouldable paste) catches the light which radiates out from the base of the vase, cast there by whichever light source Van Gogh used in a burst of yellows, browns and golds. Van Gogh introduced the impasto effect when he came under the influence of impressionism, and perhaps the most famous example of his using both is in his famous Sunflower series of paintings, which were produced over the following year from the fritillaries. He would continue to use a mixture of styles as he matured into his art, using those aspects he liked and ignoring those he did not.
His fascination with pointillism, another style of art, once in which an image is rendered in a series of dots or points of colour that, despite being hard to make out up close when viewed from a distance, form a beautiful image. He was also interested in the superficially similar divisionism, a style of painting in which colours were not mixed as paints, but applied as dots and spots of pure colour, straight from the palette. The mixing came from different coloured points of paint being applied alongside others: for example, the green of a grassy lawn, highlighted with yellow, and shadowed with red, black, grey or brown created, aimed to create paintings in which clarity of colour was supreme, unmuddied by being mixed on the palette and instead being mixed by light, as the human eye perceived the shades by doing the blending itself.
Living in Paris, with his brother, at this time, Van Gogh was enthralled with these new ways of seeing and capturing the daily world, and this interest in light and reflection can be seen best in Starry Night. However, it is also clearly present in this painting, with points of light sparkling on the blue green background, the reflections picking up the patterning on the copper vase in which the flowers are flourishing. This painting, a relatively modest one measuring just over 73 centimetres by just over 60 centimetres, is in the possession of the Musee d'Orsay in Paris, and is one of the 130 of his 900 paintings that he signed, with the single word 'Vincent', indicating that he felt it to be saleable.