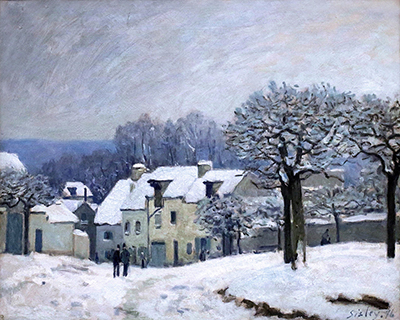 Buy Art Prints Now
from Amazon
* As an Amazon Associate, and partner with Google Adsense and Ezoic, I earn from qualifying purchases.
Place du Chenil in Mary, Snow Effect is an oil painting created on canvas painted in 1876. The artist was Alfred Sisley, a landscape painter who focused most on impressionism.
He spent most of his life in France, where he was born and where the painting is set. Alfred Sisley was committed most to outside landscape impressionism which is displayed in Place du Chenil in Marly, Snow Effect. Unlike other artists who dabbled into different forms of particular art movements, Alfred Sisley was dedicated almost entirely to landscape impressionism.
Alfred Sisley's landscape paintings use mainly calming colours that offer tranquility such as pinks, greens, blues, creams and purples. All in light, pastel shades. As Alfred Sisley painted more and more, his use of colour became bolder and his expression in paintings more defined. Being an impressionist, Sisley looked to how the light played off of the snow and communicated a feeling of placidity. Place du Chenl in Marly, Snow Effect is now located in Musée des Beaux-Arts de Rouen which is an art museum in Normandy, France. It was given to Musée des Beaux-Arts de Rouen François Depeaux, a French art collector, industrialist and patron. He gave the painting to the museum in 1909, just over 100 years since Musée des Beaux-Arts de Rouen was built.
Alfred Sisley created this artwork in Marly-le-Roi, a commune in north central France. It is just outside Paris. Despite the cold he painted this from the ground. Marly-le-Roi is most known as being the location of Château de Marly, where the Sun King (Louis XIV) resided for leisure. Place du Chenil in Marly, Snow Effect has been reproduced as a lifesize painting and can be seen near the location where it was originally created.
A year before creating Place du Chenil in Marly, Snow Effect, Alfred Sisley moved to Marly. During his time here the winters were incredibly cold and snow was common and in high volume. Inspired by this, Alfred Sisley created numerous paintings of snow scenes set around Marly and Louveciennes, a commune next to Marly-le-Roi. Though there were other impressionists not taken by snow, Alfred Sisley found it enjoyable to paint. He took influence from Japanese art and one in particular seemed to inspire him more than others. That was Snowy Night at Kambara by Hiroshige.