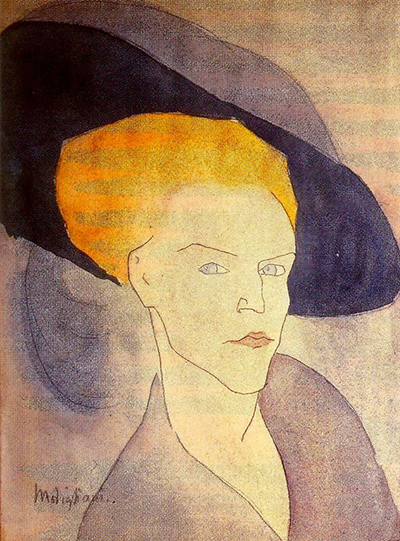 Buy Art Prints Now
from Amazon
* As an Amazon Associate, and partner with Google Adsense and Ezoic, I earn from qualifying purchases.
The Head of a Woman with a Hat is a 1907 painting by Amedeo Modigliani. The painting style is expressionism and a portrait genre. The painting measures 27 x 35 cm, and the media is watercolor on paper.
This painting depicts a woman with a big hat on his head and a feather hanging from the hat. The woman hair was painted orange and the hat dark purple.
The artist used the color combination to give this painting a rich texture. The artist placed the hat slightly above the head covering the entire space above.
The artist placed all the features carefully in this painting so that they can be in harmony with each other.
Modigliani used a bright color to paint the background which is in harmony with the woman's face. The artist used his artist skills to make the woman visible in the painting by using a bright background.
The artist ensured that the color, tone, shape and curves in the painting were in harmony to make the painting's theme stronger. Modigliani was inspired by a social event such as woman fashion to come up with the Head of a Woman with a Hat painting.
The artist wanted the viewer to see the beauty of women in this painting and how fashion can really improve the overall image of a woman. The hat worn by the lady in the painting matched with a feather makes her appear classic and authoritative.
The artist used the different color combination to depict a taste of fashion in the painting.
The woman's hair depicted in the painting is still visible while still wearing the hat. The artist used his analytical and artistic skills to use this feature in the painting to make it classic.
The big hat does not take the entire composition of the painting as the artist wanted the viewer to notice the woman's beautiful hair. The artist theme is clearly visible in the painting.
He also made the painting comical and entertaining but maintaining the main theme in the painting. The artist wanted the viewer to see and appreciate the beauty of women and how fashion can change the overall image of a person. The artist was also careful not to over decorate the painting as it could lose its meaning and look exaggerated.