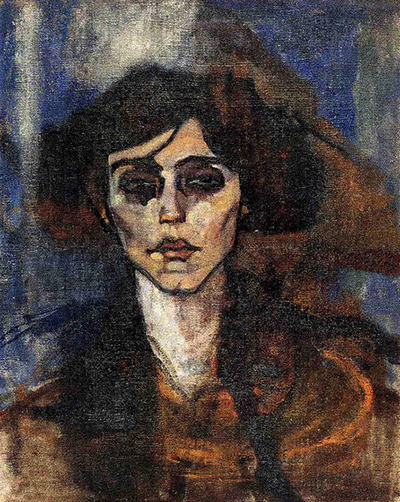 Buy Art Prints Now
from Amazon
* As an Amazon Associate, and partner with Google Adsense and Ezoic, I earn from qualifying purchases.
Amedeo Modigliani painted the famous portrait of Maude Abrantes in 1908.
Modigliani painted the portrait, which has puzzled many experts for a century, on a canvas he previously painted a nude figure with a hat.
During the time of that Modigliani painted this portrait many painters had limited means and it was usual to paint on both sides of a canvas.
However, what was unusual is that not only did he turn the canvas over, but he also turned it so that it was upside down. Despite this being an unusual thing to do by an artist, experts have not given much attention to this strange act, until now.
Modigliani was a Jewish-Italian painter and sculpture who mainly worked for most of his career in France. Modigliani is particularly famous for his portrait work, particularly of nudes in a modern style of painting.
Much of his work has unique characteristics which includes particular elongation of the subjects that he paints. Much of his portraiture work was not well liked at the time, although his work has now been accepted. The artist was educated in Italy, where he gained much knowledge of Renaissance art. It was in 1906 that he then moved to Paris, and it was here that he painted the portrait of Maude Abrantes.
The Hecht Museum now houses the painting, and is housed in a very special contraption that allows the canvas to be viewed from both sides. Of course, the one side of the painting hangs upside down - the nude portrait is upside down.
It was hung for a century until one day, a museum guide was discussing the painting with a group of visitors. She suddenly saw another, mysterious painting in the background.
In came to light that the reason that Modigliani turned the painting around was not because he was frustrating visitors that were trying to view the painting, but instead, he was not happy with the original image on that side of the canvas and simply turned it around to create a third.